In the smartest design move of the week, Issa–maker of that iconic royal blue wrap dress Kate Middleton wore when she announced her engagement–just released a maternity version of the dress.
One only has to think back to 2010 when Issa skyrocketed to international noteriety when it was revealed that the Duchess was wearing one of their creations. Like almost everything Kate Middleton wore, the dress quickly sold out and has been a bestseller ever since.
But now that Kate is expecting, Issa went ahead and did the business-savvy thing of transforming Kate's Issa dress into an Issa maternity dress. The wrap waist is a little higher to accommodate a baby bump and it looks a little longer than the original. We're guessing Issa is hoping Kate Middleton will wear their design again, but here's an opportunity for all you expectant moms to get your hands on a Kate Middleton classic before it sells out.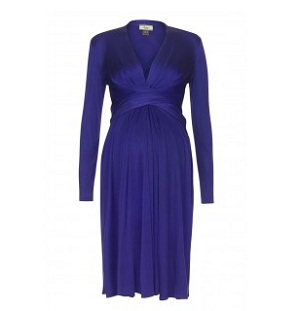 For more Kate Middleton style, check out her French Connection top, her Asprey necklace and her Aquatalia boots.