Comic book fans are *really* excited about the new Wonder Woman, Gal Gadot. The Israeli actress and model was cast as the iconic comic book hero in "Batman v Superman: Dawn of Justice" this year and in next year's "Wonder Woman." If you love superhero films or have always been a fan of Wonder Woman (what little girl/adult woman ISN'T??) then you should definitely do this costume for Halloween this year. It's so timely! Plus, you can make it a group costume and grab two guys friends to play Batman and Superman (now, that's a sandwich I'd like to be in).
Here's the trailer for the new "Wonder Woman" film to get you REALLY excited:
And of course, her first appearance in the "Dawn of Justice" film. Always kicking butt:
K, so now that you're mentally prepared, aka pumped up, for the role, let's break down the costume parts:
Wonder Woman's Hair: 
Wonder Woman's hair is brown and wavy and has lots of body. If you have blonde hair you absolutely need to wear a wig. If you're a brunette and have long hair you can style it like Wonder Woman's by teasing the crown, using a curling wand and doing a great blowout. (More on that below). If you don't have long brown hair to create the look with, try a wig. I think this Smiffy's Siren Long Curly Wig ($15.14) is good because you can easily put her headpiece around the crown where the wig is flat.
Here's a Wonder Woman Hair and Makeup tutorial you can use if you want to do your own. Obviously, you'll need red lipstick!!:
Wonder Woman's Outfit: 

Wonder Woman basically wears a red corset, a blue skirt and a gold belt. If you want to DIY it at home, you can use a red strapless top and blue mini. I'm assuming you don't already own either, so here's a costume you can literally just buy: Dawn of Justice – Deluxe Wonder Woman Costume For Women ($35.73). It's not crazy priced and it seems to be the best quality Wonder Woman costume I could find online.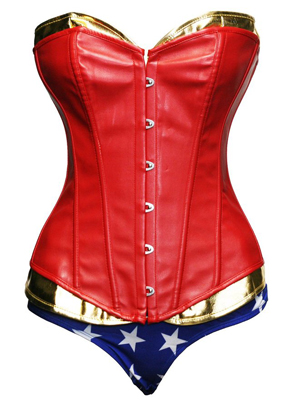 I also found online just the corset part which seems pretty legit/flattering. If you don't like the fit of pre-packed costumes (they are usually pretty chintzy), then try to put the look together yourself. It even comes with blue hot shorts (which I doubt you want to just wear alone!): Woman Halloween Costume Overbust Corset with Shorts ($27.99).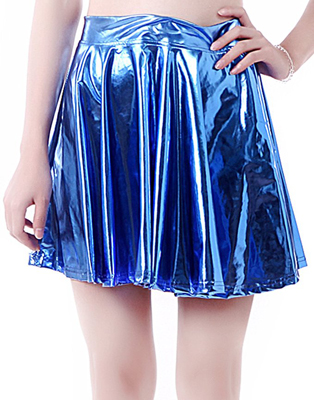 If you're putting the costume together, the shinier the blue skirt, the better. This one I found on Amazon is pretty cheap and looks like something a superhero would wear: Women's Shiny Liquid Metallic Wet Look Flared Pleated Skater Skirt ($7.99).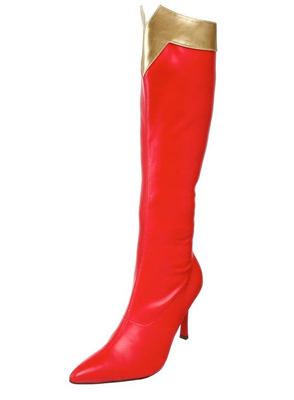 Obviously you need some kick a$$ red tall boots. I like the look of these Funtasma by Pleaser Women's Wonder-130 Knee-High Boot ($36.18)–the heels isn't too high, the red leather looks somewhat quality, and they're under $40. Nice!
Wonder Woman's Crown: 
Obviously you'll need Wonder Woman's gold headband/crown. This Star Crown Costume ($17.95) seems to be one of the better ones you can find online for the costume.
Wonder Woman's Weapons: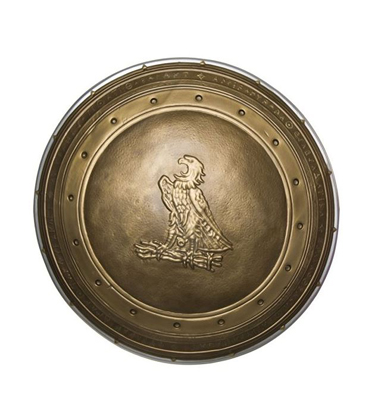 Wonder Woman needs her shield, obviously. I'm assuming you don't have one lying around and will need to buy one. This Dawn of Justice Wonder Woman Shield ($20.99) seems to be pretty authentic looking for $20.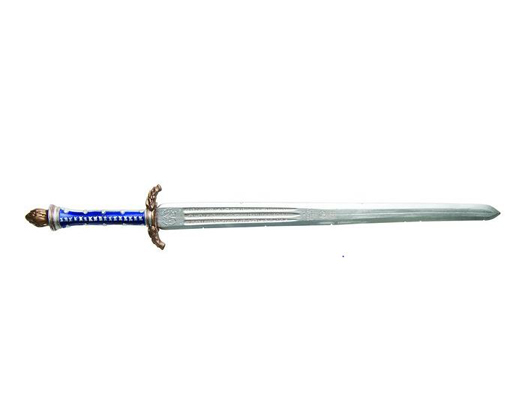 Lastly you'll need her sword. If you have any sword from a previous Halloween costume or your kid's toy bin, just use that. Otherwise, grab one on a cheap costume site or Amazon. This one's good: Dawn of Justice Wonder Woman Sword ($7.83)
More 2016 Halloween costume ideas:
Eleven from Stranger Things Halloween Costume
Rey from Star Wars Halloween Costume
Dauntless from Divergent Halloween Costume
Barb from Stranger Things Halloween Costume
Ghostbusters Girls Halloween Costume
Beyonce Lemonade Halloween Costume
Harley Quinn Halloween Costume
Rihanna With Wine Glass Halloween Costume
Sandy from Grease Halloween Costume
Kylie Jenner Halloween Costume
SheFinds receives commissions for purchases made through the links in this post.