After reporting that celebrity bride Miranda Lambert put her bridesmaids in cowboy boots last May, BRIDEfinds readers have been snatching up similar Old Gringo pairs like wild fire (and Bachelorette Deanna Pappas followed suit in October, which didn't hurt the cause either). Our brides just seem to love the idea of rockin' cowboy boots themselves, too, a la Reese Witherspoon, who switched out her Jimmy Choos for a pair at her March 2011 reception.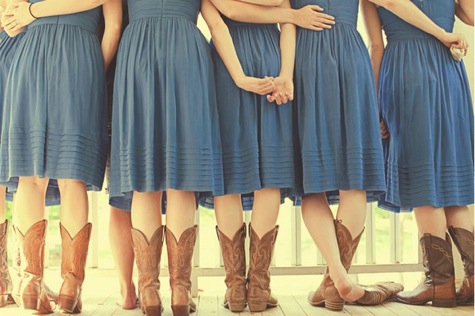 You don't have to be Southern or even a countrified bride to rock 'em; cowboy boots work great for outdoor or late summer weddings, where you just want to kick off your heels and dance in the grass. Tip: for a great photo, pull up your dress to reveal the rugged footwear underneath your glamorous white gown.
We've corralled the best wedding-worthy cowboy boots on the web. Choose a designer pair for yourself (Old Gringo is our favorite), and a cheaper, under-$100 pair for your maids — we've found them all! Yee-haw:
Shop our guides to the best inexpensive unique wedding invitations, wedding centerpiece decorations, and wedding cake toppers!