Are You Team Vanessa Or Kourtney In This Lovers & Friends Jersey?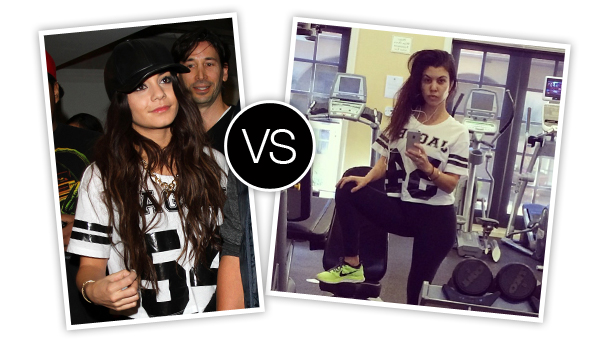 Ever consider wearing a non-sports team jersey just for fun? Apparently Vanessa Hudgens and Kourtney Kardashian dig this look. Vanessa wore the Lovers & Friends Jagger 54 T-Shirt ($53) with black leather pants while traveling through LAX while Kourt pumped iron at the gym in her jersey (with neon running  shoes). Cute? Sure, in a kind of ghetto, nonchalant way. Which look do you prefer? You better have the moves to rock a 'Jagger' label. Would you feel like a superstar working out like the pros in a jers? Why not give it a try…
Lovers & Friends Jagger 54 T-Shirt ($53)
Don't miss out on Anna Kendrick's White Top, Olivia Palermo's leather skirt, Jessica Alba's over-the-knee boots, and Julianne Hough's button-down shirt.
[Photo Credit: Splash News; Instagram]