Nicki Minaj may make some seriously questionable sartorial decisions (remember the poof-ball dress from fashion week SS12?), but no one can deny that the woman knows how to work a manicure. Nicki isn't the only fan of Minx printed nails — you've seen them on Rihanna, Lady Gaga and Beyonce, too. Now, with the latest spate of hard-polish nail decals, we mere mortals can get cool printed nails, too.

Nail decals have been around for, uh, forever (for all we know, cavewomen had those gross little white flowers airbrushed onto the corners of their acrylics). Recently, however, brands like Sally Hansen and Nail Rock have taken it upon themselves to elevate the art form from holiday themes and Hawaiian flowers to wearable, full-on nail polish: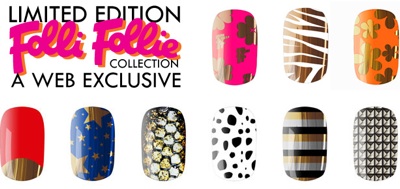 Nail Rock even has a Folli Follie collab.
You can still have butterflies, flowers, and any animal print imaginable, but Sally Hansen and Nail Rock also offer a wide variety of solid and neutral colors for those of us with less-than-Super Bass taste. Check out some of our favorite colors like Tu Tu Much, Plum-met, and Bluscious, all $9.99 from Sally Hansen Salon Effects.
Don't forget to browse our guides to the best mascara, eyeshadows, and bath products.