The Council of Fashion Designers of America and online retail powerhouse eBay have come together once again to protest counterfeit merchandise through their "You Can't Fake Fashion" campaign, the second round of which hits online next Tuesday. Steven Kolb, CEO of the CFDA said:
The CFDA works to protect designers' intellectual property, and fighting counterfeits is a critical issue to CFDA, eBay and the fashion industry at large. We continue to collaborate with eBay on this bold campaign to educate shoppers on the dangers of counterfeits, raise awareness of our mutual dedication to the fight against fakes and emphasize the importance of original design.
75 iconic American designers including Diane von Furstenberg, Ralph Lauren, and Calvin Klein (Francisco Costa) have designed bags for the initiative with hopes to to discourage counterfeiting and celebrate original design. The 2011 collection sold out, and after seeing the designs featured on this year's bags, we're anticipating the same results.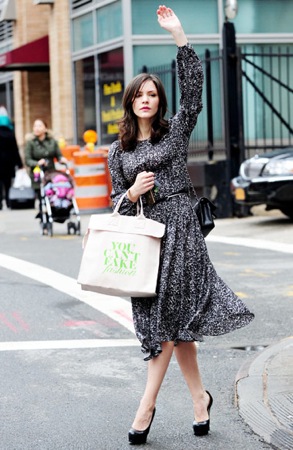 Actress Katherine McPhee recently stepped out with a bag from the last collection.
The totes (which read, appropriately, "You Can't Fake Fashion") will go on sale on March 20th exclusively through eBay's "Buy it Now" feature. The designer customized bags will retail at $200, and the four standard supply styles will be $45.
Browse some of the  bags in our slideshow above, and pick out which one you'll rock come March 20!