Remember the brand XOXO? It's the quintessential urban clothing line for junior's. You probably wore it in middle school or know someone who did. I am definitely a part of the latter group, well, that is, I was a part of the latter group. It all started a few months back when I received a pair of XOXO dark wash skinny jeans at work. Even though it's not one of my go-to denim brands (don't we all have at least one?), I could not turn down a free pair of jeans in my size. I mean, would you??
The jeans sat in my closet for about a month before I even tried them on. My usual pairs were either dirty or I was sick of wearing them, so I reached for the XOXOs. I put them on, no trouble at all (aka, no jumping up and down to squeeze in). They fit like a glove and I KNOW that saying is so overused, but there really is no better way to describe it. Fit like an iPhone case? Is that better? You get the idea. But besides clinging to my legs in all the right places (know what I mean??), the jeans are extremely soft.
After wearing them to dinner with my family, I decided to take them out for a spin with friends. Immediately upon meeting them, one exclaimed "WHERE are your jeans from?? I love them!" My friends don't shop XOXO and hadn't even heard of the brand before I told them about it. Since then, those jeans have basically become glued to my body–I wear them on a daily basis. They don't bag out and have more stretch than normal jeans, so your legs don't feel super constricted. Unfortunately, the only place to buy XOXO jeans online is Amazon, which has a paltry selection of just THREE pairs. I don't know where to buy them IRL, so if anyone does, help a girl out!
Now that my secret's out, I want to know: are there any brands you're wearing on the low? Let us know in the comments below!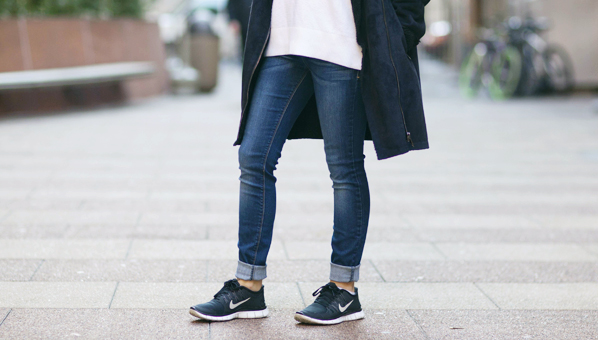 Me pretending to be a street style star in my XOXOs–did I fool ya??
Don't forget to check out: how I found out Express makes the best workout clothes and