The Academy Awards can be a little too stuffy and serious, and the Tony Awards are posh, but the Billboard Music Awards is one event where an incredibly diverse array of celebrities gather and let loose. At the Billboard Music Awards, the fashion choices are bold and the performances are inventive and fun.
Every now and again, a celebrity wildcard shows up on the red carpet, causing confusion. Like when Kate Beckinsale presented an award to Drake at the 2017 Billboards and he kissed her hand in return, the world scratched their heads and wondered—cool, but why?
When Are The 2018 Billboard Music Awards?
The 2018 Billboard Music Awards is set to take place on Sunday, May 20 and will be broadcast live from Las Vegas' MGM Grand Garden Arena.
Who Is This Year's Billboard Music Awards Host?
The host of this year's Billboard Awards is a singer and former American Idol star, Kelly Clarkson. The current The Voice coach definitely knows a thing or two about Billboard chart hits. Clarkson has had 27 Billboard hits over the years, including 11 top 10 tracks and three tracks that hit the number one spot, reports Billboard.
In a press release, the good-humored singer joked about her host preparation plans, "To prepare for hosting the Billboard Music Awards, I already have 20 costume changes planned. I will be flying in like my girl P!nk, and calling Amy Schumer and Sarah Silverman for jokes. Well, or I'm just gonna show up and celebrate my favorite artists and get to know a few more. Yeah, maybe I'll go with that plan."
More exciting news is being released each day about what the audience can expect at this year's Billboard Music Awards. Here's everything we know so far.
Billboard Music Awards Announced Its 2018 Performers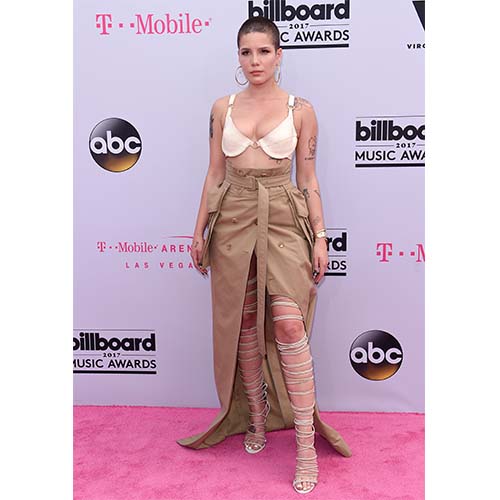 With just one month left until the big event, Billboard recently announced the first four performers we can expect to take the stage: Camila Cabello, Shawn Mendes, and Due Lipa. No word yet on which songs they will perform, but all three stars currently have hit songs on the Billboard Hot 100.
Cabello, who performed at last year's Billboard Music Awards has two song in the top 20: "Havana" and "Never Be The Same." Mendes' "In My Blood" is at No. 37 and Due Lipa has three songs on the list: "New Rules," "IDGAF," and "One Kiss," her collaboration with Calvin Harris.
Another huge performance announcement: uber-popular Korean pop band BTS will perform the world television premiere of their new single, reports E News. The seven-member group is releasing a new album called Love Yourself: Tear and celebrated their first top 40 hit with "Mic Drop" this past year.
More news about other acts you can expect should be released soon, so keep your eyes open in upcoming weeks.
The Billboard Music Awards Nomination List
There is a slew of really popular artists competing in the same categories at this year's Billboard Music Awards. For starters, the biggest category, Top Artist, pits these singers against each other: Drake, Kendrick Lamar, Bruno Mars, Ed Sheeran, and Taylor Swift. It's a tough call. Sheeran has had an incredible year, particularly with his single "Perfect," which become a huge global hit. Drake has more top 10 hits than any other hip-hop artists, reports Forbes. Swift holds the record for the most Billboard Music Awards, with 21 awards. But it's worth noting that Lamar just became the first rapper to win the Pulitzer for his album "Damn"—though Bruno Mars beat him for album of the year at this year's Grammy's. The winners will be anybody's guess.
As for other big categories, Cardi B and Camila Cabello are in the running for Top New Artist and Top Female Artist (alongside Swift, Halsey, and Demi Lovato). The category for Top R&B Female Artist includes queens Beyonce, Rihanna, and SZA. And Imagine Dragons has two songs nominated for Top Rock Song: "Believer" and "Thunder." You can check out the entire list of Billboard nominees.
The Best Fashion Moments Of The Billboard Music Awards
Very few celebrities take major fashion chances at award shows like the Oscars and Emmy's, but the Billboard Music Awards bring out the risk takers. Notable outrageous and amazing fashions at the 2017 Billboard awards included Dencia wearing a serious catsuit with cubist-inspired three-dimensional shapes on the shoulders and as a headpiece, Halsey in a white bra, military-style skirt, and lace-up heels, and Lea Michele in a nearly naked black gown with wide sheer panels.
Judging from the biggest fashion moments of previous years, the Billboard Music Awards red carpet is the one place where you'll see a pants-less Madonna, a pale blue catsuit on Nicki Minaj, and P!nk clad in a gown and matching boots adorned with prints of $50 bills.
Hey, at least it's not boring!
For more info on music award shows, check out:
—8 Best Moments From The 2017 Billboard Music Awards
—Here Are The Best Dressed Celebs At The 2017 American Music Awards
[Photos: Splash]