Yup, your favorite shapewear now comes in denim. Set to debut this fall, SPANX is introducing a collection of denim that features their innovative, muffin top-reducing shapewear technology built right into the pants. We got a sneak peek of the jeggings at SPANX's fall preview (below), which come in coated denim, metallic, riding pants (denim with fabric panel), army green, rust and more: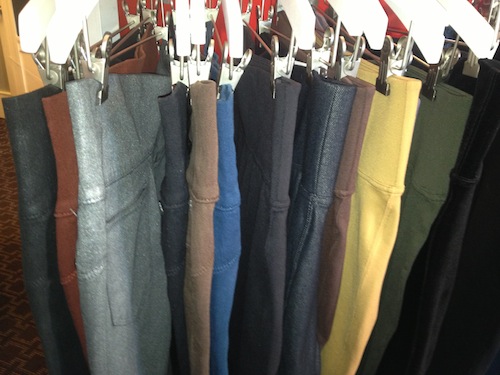 We know what you're thinking: is shapewear denim an awesome or awful extension of the jeggings trend? Jeans are supposed to be comfortable and shapewear is, well, not. Plus, the top-panel of the Spanx jeans are oddly reminiscent of maternity jeans. But here's why Spanx denim is genius. How annoying and constraining is it to have to squeeze your thighs into an all-in-one? Now imagine how awful it is so squeeze a pair of tight jeans on on top of that? Not only are you likely to have trouble breathing, but it's all so bulky, too. That's what makes Spanx denim so amazing–you get the shaping without the bulk.
No matter what side of the lazy girls' denim debate you fall on–SPANX jeans are definitely going to be a talking point this fall. And we'll definitely be squeezing OUR asses in to them – so, we'll let you know if they work! SPANX denim leggings will retail for $98 and are set to launch around early October.
Leave a comment–would you wear shapewear denim?
In other exciting fashion news, ManRepeller x PJK is here, Jonathan Adler designed handbags for Bloomingdale's and Kate Spade's Saturday collection arrived early.