Spring is here and you should embrace it because before you know it, we will be in the sweltering heat of summer. Just how do you get into the spring spotlight? Follow Dianna Agron's lead! The former Gleek wore the J.Crew Photo Floral Dress ($168) that would be ideal for your Memorial Day Weekend plans (BBQs and bonfires anyone?). She chose comfortable espadrille-type sneaks (we love) and a simple chain bag. Summer weddings? Check. Spring outings? Check. Snag it below!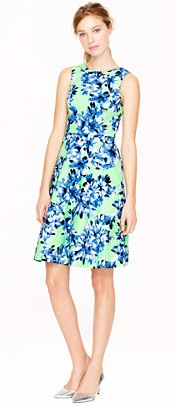 J.Crew Photo Floral Dress ($168)
Don't miss Jamie Chung's printed pants, Jessica Alba's chambray jumpsuit and Naya Rivera's sexy bikini.
[Photo: Splash News]