Step 1
I suggest
Batiste Dry Shampoo
($7.99). I have tried several different brands and this one definitely works the best, and it leaves the least amount of residue.
Step 2 Part your hair all the way on the right and pull your hair over to the left. Shake the dry shampoo bottle and spray into your parted hair. Flip your hair over and part it on the left side. Spray into this side of your parted hair.
Step 3 Spray the front portions of your hair. Flip your hair forward to cover your face (you may need to flip your head upside down), and spray the back of your head and the crown. Spray these portions of your hair well, because they are the most likely to be greasy. Your hair should be covered in white residue, but don't panic.
Step 4 Pull your hair out of the way with a clip or headband. Claw clips like the Karina Claw Clip ($3.60, down from $4.50) work really well, because they won't make creases in your hair. Leave your hair alone, and let it sit in the clip for 10 about minutes. I like to apply my makeup and finish getting ready for the day while the dry shampoo is soaking up all of the excess oil in my hair.
Step 5 Once the shampoo has set for about 10 minutes, start massaging it into your hair, just like you would shampoo your hair in the shower. Keep massaging until you don't see anymore white residue.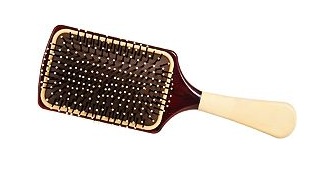 Step 6 Brush your hair with a paddle brush. Try this: Marilyn Flatter Me Paddle Brush ($16, down from $20) You should be left with clean hair that is more volumninous than before.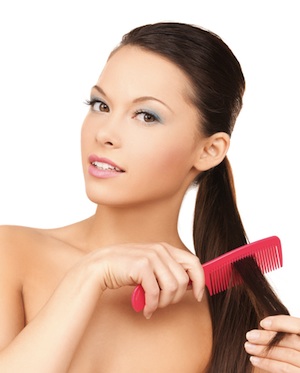 Step 7 You're Done! Now you can style your hair however you like. When I use dry shampoo, I usually tease my hair a little bit and pull it into a pony tail, but dry shampoo isn't just for updos. You can style your hair exactly like you would if you had washed it in the shower. And the best part is, nobody will know! It can be our little secret.