Have you ever noticed that Kourtney Kardashian posts her Instagram selfies in sets of three? There's actually a reason behind it. In fact, Kourtney isn't the only celeb who does a #triplegram. Many designers, like Tom Ford and Mansur Gavriel, and artists use this approach because it creates an aesthetically pleasing Instagram feed.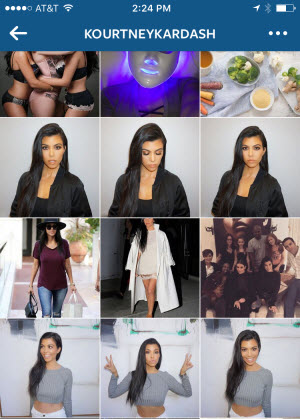 Kourtney loves to show off her glam sessions with three photos, giving a shout out to her makeup artist and hair stylist. She says on her website that she started posting in threes because of her little sis, Kylie Jenner. "One day, Kylie took my phone and posted three of the pics in a row when I was asking her which one to post, so she started the 'three in a row' thing. I love how three in a row looks on my Instagram feed," she said.
Many people also say the #triplegram is a great way of getting more Instagram followers. It really does create a visual experience for users who glance at your profile.
Don't miss Kendall Jenner's Snapchat account is finally public and see Behati Prinsloo's baby bump!
[Photo: Instagram]