YSL Introduces The First Ever 'Tie Dye' Nail Polish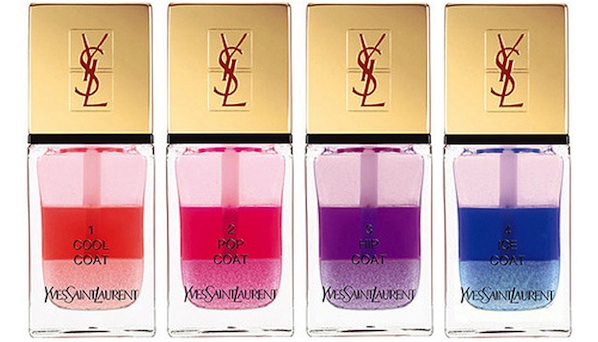 We've recently seen a slew of innovative top coats, but this one takes the cake. YSL is set to launch a collection of 4 polishes that each contain three different finishes in the same bottle. Mind blowing, yes it is. Each bottle is composed of a sparkle, sheer solid and clear gloss top coat, which gives a 'gradation effect' much like your favorite dip-dyed T-shirt. How it works: pull the brush out of the bottle and swipe over your mani for a gradient top coat effect, or you can opt to shake and mix all three together if you prefer the same look all over. The YSL La Laque Couture Tie & Dye Top Coat Collection ($25 each) includes a Cool Coat (melon), Pop Coat (fuchsia), Hip Coat (lilac) and Ice Coat (royal blue), and will be available starting in May. Seriously though, what will they think of next?
Need more nail polish news? Check out this all-in-one manicure kit, Ciate's new chalkboard manicure Kit and Dior's instant French manicure treatment now.
[Photo: YSL]