After much buzz about Zoe Saldana's husband (Marco Saldana) taking her last name, the actress responded with a long passionate Facebook post. In her post she asks the public why they think it is such a big deal for a man to take his wife's name. She also highlights what is truly important, aside from who gets who's last name.
Prior to changing his last name, Zoe warned her husband about the backlash he may see from the public. His response? Freakin' perfect: "Ah Zoe, I don't give a s**t."  He then proceeded to ask her "Why not? What are you so afraid of?" A man that challenges you, isn't that we're looking for now-a-days? Zoe, looks like you've got yourself a keeper!
Check on the image blow to read more!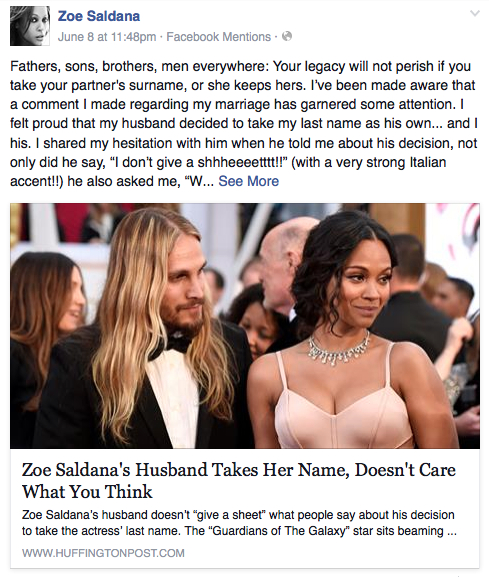 Don't miss Ariana Grande Wrote An Epic Message For Woman Everywhere–Read It Now   and Every Relationship is Different But You Should Always Agree On These 4 Things
[Photo: Splash News]