The matching set trend is everywhere — from Beyonce to Kourtney Kardashian — and in every form like tops with skirts and jackets with shorts. So we totally get it if you find it a bit overwhelming to pick the right type of set for you. Luckily, we have three stylish examples (and tips) on how to wear them, thanks to a few of our favorite bloggers.
Here's how to wear it:
1. A subtle print won't make you look too matchy-matchy. If the idea of wearing an allover print sounds crazy, then opt for a more subtle print like this low-key chevron in black and white. Dressing the rest of your outfit within the same color scheme will keep everything more streamlined.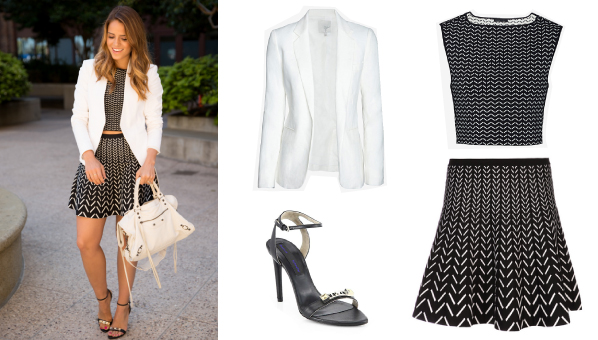 Get the look: Ohne Titel Chevron Pattern Knit Crop Top ($295), Ohne Titel Chevron Skirt in Black and White ($295), Joie Linen Blazer ($278) and Proenza Schouler Leather Ankle-Strap Sandals ($595)
2. But sometimes the more prints, the merrier. If you want to try out the matching print set, why not go all the way? Balance the rest of your outfit with simple accessories like a handheld wallet and ankle-strap sandal heels.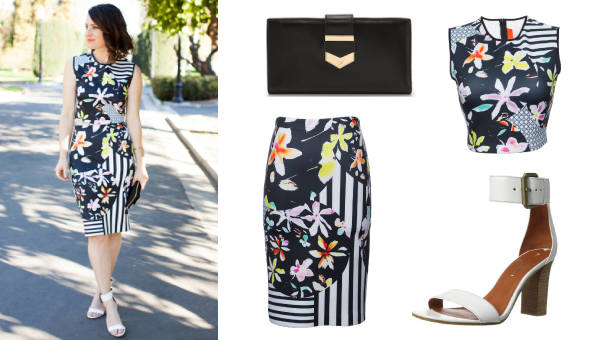 Get the look: Clover Canyon Neoprene Floral Crop Top ($195), Clover Canyon Knee Length Neoprene Floral Skirt  ($230), Time's Arrow Travel Wallet ($295) and Via Spiga Women's Foxy Dress Sandal ($146.25)
3. Treat your matching print set as a neutral. Just because you're wearing more prints than usual doesn't mean you can't treat it like the perfect base for your stand-out pieces. Adding a bright pop of color and a metallic accent will make your matching set look like a white T and jeans.
Get the look: Dorothy Perkins Khaki Leaf Print Cami ($25), Dorothy Perkins Khaki Leaf Print Joggers ($44), Fausto Puglisi Blazer ($850) and Robert Clergerie Metallic Leather Wedge Sandals ($595)
Check out more blogger style stories: the oxford shirt, the crop top + pencil skirt, and this season's trends.
[Photos: Gal Meets Glam, Cheetah is the New Black, and Lee Oliveira]