We tried to fight it, but there's no denying that Birkenstocks are officially back. If you still have old ones from your summer camp days, bring 'em out! Otherwise, you can pretty much find them at any store these days.
So now that you don't have to worry about finding a pair, it's time to breakdown how you're actually going to wear them. Trust us, it's not the same way you did it back in the day. The key here is not to look too normcore. Your Birks (remember calling them that?!) should be the only part of your outfit that looks like it came out of a Midwestern tourist's closet. Otherwise, you can pretty much pair them with anything, dresses, cutoffs, leather skirts, you name it. Plus, these shoes actually make for pretty comfy summer sandals. It's super easy to slip your feet right into a pair thanks to their thick cork sole and adjustable buckle straps.
These three style bloggers styled Birkenstocks differently, but each way works. Here's how to wear them:
1. Keep it casual. Your summer uniform probably already consists of cutoffs and a striped tee, what girl doesn't one at least own version of both of these items? So to give your outfit the vibe of being even more laid back, slip on the sandal of choice for hippies and Grateful Dead fans everywhere. Nothing says "I woke up like this" more than topping your look off with over sized sunglasses (Venti Starbucks coffee, like My Style Pill's, for bonus points).
Get the look: Birkenstock 'Arizona' Oiled Leather Sandal ($119.95), Stella Jean striped boxy T-shirt ($206.43), Rag & Bone JEAN Cutoff Shorts ($143) and Karen Walker Super Duper Strength Sunglasses ($280).
2. Try a different style. We're all used to seeing Birkenstocks with the adjustable double strap wrapping around the foot, but, shocker, they make other styles too! Sea of Shoes chose the Birko-Flor shoe, which has two thinner adjustable straps that make the sandal look less aggressive and more feminine. Plus, her choice to wear them with a chiffon dress helps the whole trying to look like a girl thing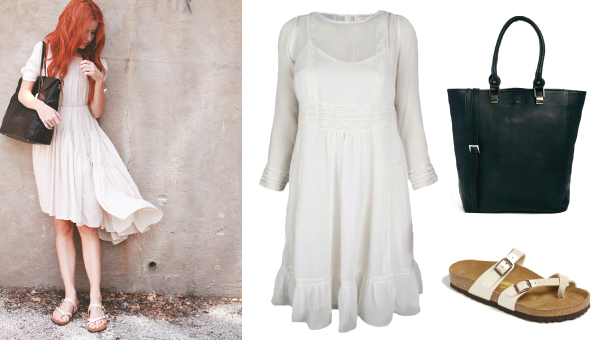 Get the look: Birkenstock 'Mayari' Birko-Flor™ Sandal ($89.95), White Button Back Dress ($225, down from $450) and Urbancode Black Leather Tote Bag ($81.93).
3. Dress them up. We're not talking black tie event, but it's possible to make Birkenstocks somewhat fancy. The key here is to go with a black leather pair, and wear them with a minimal look, like a classic white button down and leather skirt. The dark color of the shoes makes your outfit sleek and sophisticated. Yes, believe it stoners, Birkenstocks=sleek.
Get the look: Birkenstock 'Arizona' Oiled Leather Sandal ($119.95), Men's Regular-Fit Linen-Blend Shirts ($29.94), Ashane Wrap Over Mini Skirt With Snake Detail In Black ($35.98) and Ray-Ban Outsiders Oversized Wayfarer Sunglasses ($155).
For more styling tips from bloggers we love, check out: jumpsuits, matching sets and denim jackets
[Photos: My Style Pill, Sea of Shoes, Creators of Desire]