One day soon, we'll unearth those exorbitant music festival tickets we bought months prior. We'll feel the warmth of the sun against our skin. We'll groove to the beats of our favorite live performers. We'll be experiencing all of the glory that is Coachella, Gov Ball, Firefly, or whatever other summer music festivals you choose to embrace.
But wait, there's something missing–what on earth are we going to wear? Finding the perfect music festival outfit is almost as hard as deciding which music festival to attend in the first place–or finding the funds to purchase the tickets! But don't fret, we've got you covered.
There are so many music festival outfit ideas out there, it can be hard to narrow it down to just one. We found three cute music festival outfits for you to wear to your next concert from some of our favorite style bloggers and celebrities to help you find the perfect ensemble. Here are the absolute essentials for what to wear to a music festival:
What To Wear To A Music Festival–3 Cute Music Festival Outfit Ideas
1. Bralette + Cardigan + Shorts + Boots

[Photo: Splash]
This classic outfit combination is a festival go-to. You're sure to be comfortable and look stylish with the ensemble. Shorts are a must (who wears jeans to a festival?) because they'll keep you cool. Music festivals are a place where it is 100% acceptable to rock a bralette as a top so embrace it. Layer a loose and light cardigan or shawl over top of it for a little bit of sun protection during the day and to keep you warm when the sun sets and it gets chilly. Keep in mind, as wonderful as your music festival experience is sure to be, there are some potential hiccups to keep in mind: mud. A huge crowd and a grassy knoll–you know where this is heading. A pair of cute but durable boots can help you relive your Woodstock fantasy while keeping clean and dry.
Shop similar looks: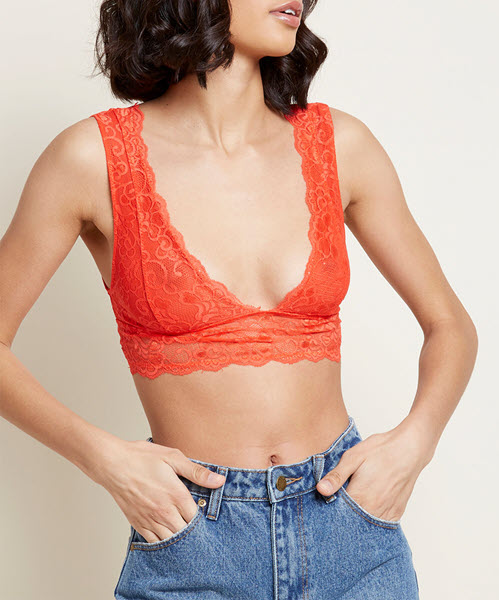 Modcloth Bliss Beckons Lace Bralette in Red ($19)
ASOS Tall Denim Short with Raw Hem in Light Blue Wash with Rips ($48)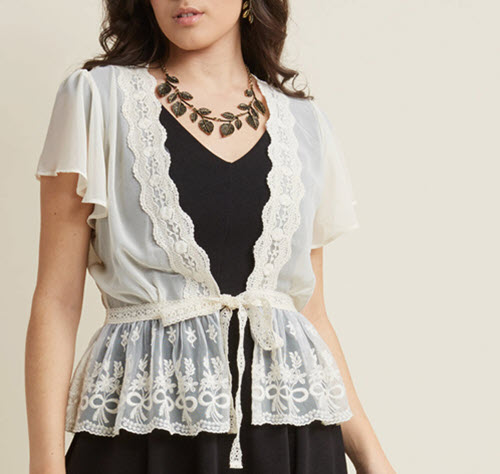 Modcloth To Quiche Their Own Lace Cardigan in Cream ($55)
2. Mini Dress + Sweater + Boots

[Photo: Splash]
A dress is an easy choice for spring and summer festivals. If they're flowy (which they should be), they're comfortable to move and dance in–a crucial part of a festival outfit. Pairing a girly dress with a pair of boots makes the outfit more down to earth and relaxed. It's probably going to be hot out, I know, but that is pretty much always subject to change. Not tryna sound like a mom here, but you're seriously going to regret skipping that extra layer when day turns to night and the temperature starts dropping harder than the bass. Layers can make a really cute addition to an outfit. Adding on layers can take an ensemble from pretty good to music festival chic in seconds! There are endless possibilities when it comes to layering. You can wear a cardigan, flannel, long sweater, patterned jacket, jean jacket, or a lace shawl, to name a few. Just make sure the layers you pick to wear are light so that during the day you can store them in your backpack or tie them around your waist.
Shop similar looks:
Rachel Rachel Roy Rainbow Stripe Maxi ($149)
Missguided White Milk Maid Dress ($43)
Forever 21 Open Knit Longline Cardigan ($38)
The Reset Silk Slip Dress ($185)
3. Matching Set + Sandals

[Photo: Song Of Style]
A crop top, flowing matching set, or patterned jumpsuit is a music festival staple (duh). It's important that you don't settle for just any matching set. A comfy, loose-fitting tank and matching pants or shorts will improve your experience like no other. I mean, do you really want to be wearing a clingy, rayon top out in the scorching heat for an entire day? No, no you don't. That's what nightmares are made of. A loose fit is super cute and looks laid back for a festival!
Shop similar looks:
Old Navy Sleeveless Linen-Blend Jumpsuit for Women ($36)
ASOS Boohoo Printed Tie Front Romper ($35)
Forever 21 Striped Crop Top & Pant Set ($32.99)
Old Navy Flower Applique Double-Strap Sandals for Women ($17)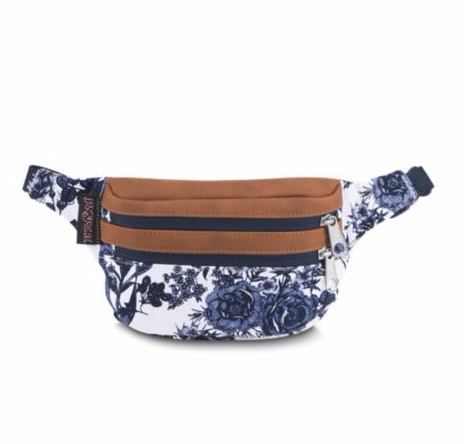 Jansport Hippyland Fanny Pack ($19, down from $25)
Now you're totally ready to face the elements (and the music), girl! Go out, have fun, enjoy some great music, and look effortlessly flawless in your music festival outfit!
Check out more from SHEfinds:
SheFinds receives commissions for purchases made through the links in this post.