One day soon, we'll unearth those exorbitant music festival tickets we bought months prior. We'll feel the warmth of the sun against our skin. We'll groove to the beats of our favorite live performers. We'll try not to get a second hand high from the blaze of weed that fills the air. We'll be experiencing the glory that is Coachella, Gov Ball, or whatever festival you choose to embrace, and all will be right with the world. But wait, there's something missing…. Um, WHAT ARE WE WEARING? Don't fret, we've got you covered. Here are the absolute essentials for what to wear to a music festival:
1) Rain booties are a major key
As wonderful as your music festival experience is sure to be, there are some potential hiccups to keep in mind, i.e.: MUD. A huge crowd and a grassy knoll… You know where this is heading. Rain boots won't help you relive your Woodstock fantasy, but they will help you stay sort of clean and dry — I mean, as clean and dry as you can possibly be at a music festival. Ugh, mud is such a grinch! Luckily, these rain booties are totally adorable — like I'd wear them regardless of the weather. So… you won't lose any of your music festival street cred by remaining cautiously waterproof — yippee!
Jeffrey Campbell Stormy Rain Boot ($55)
kate spade new york 'sedgewick' rubber rain boot ($175)
2) Loose-fitting crop tops help you stay cool
The crop top is a music festival staple (duh), but it's important that you don't settle for just any crop top. A comfy, loose-fitting tank will improve your experience like no other. I mean, do you really want to be wearing a clingy, rayon top out in the scorching heat for an entire day? NOOOOOO. That's the stuff of nightmares! The loose fit is cuter anyway!
Kiss The Sky Festival Crop Top With Pom Hem In Floral Print ($31)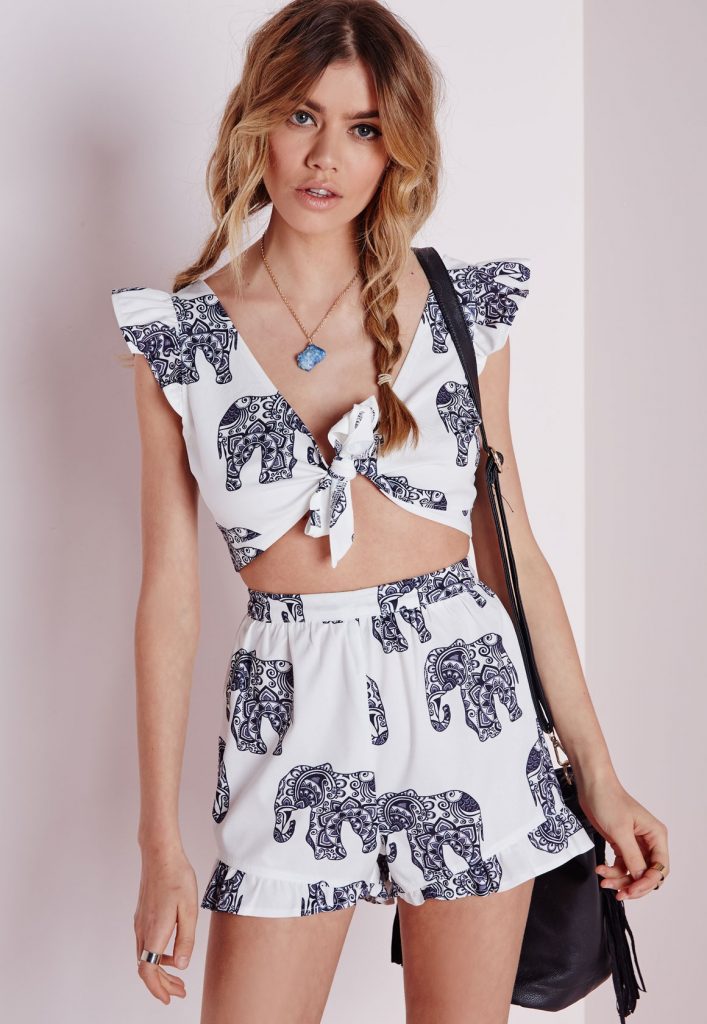 Elephant Print Crop Top White ($8.50, down from $17)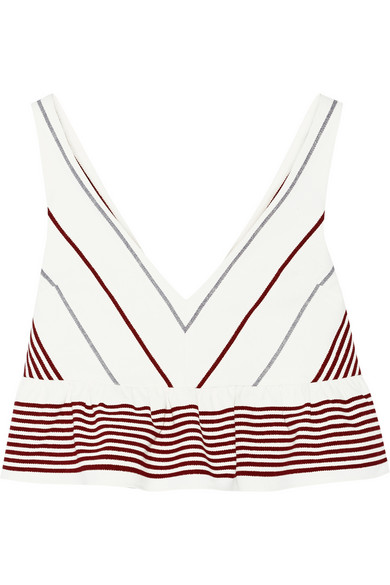 Elizabeth and James Annaline cropped striped crepe top ($295)
3) Bring a badass backpack or tote bag
If you're in it for the long haul, you'll have to invest in some sort of bag or pack. You need supplies! First priority, WATER BOTTLE. Dehydration is a serious prob at large-scale outdoor events, don't suffer the consequences just because you want to go hands-free.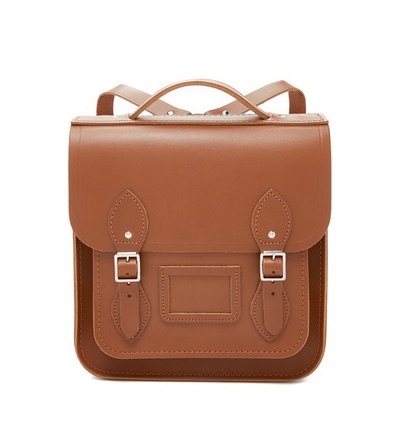 Cambridge Satchel Small Portrait Backpack ($215)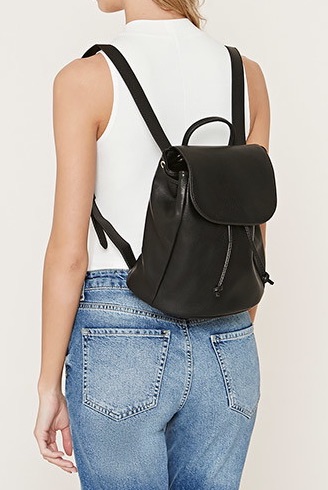 Faux Leather Backpack ($28)
Kipling Ravier Backpack ($114)
4) You can never have TOO many layers
It's probably hot out, I know, but that is pretty much always subject to change. Not tryna sound like a mom, but you're seriously going to regret skipping that extra layer when day turns to night and that temp starts dropping harder than the BASS. Don't worry, layers can be cute and music festival appropriate. Plus, these will totally fit into your new backpack!
Sun & Shadow Ombré Stripe Long Cardigan ($40.80, down from $68)
BDG Parker Cardigan ($59)
Lawrence Drape Front Fringe Cardigan Central Park West  ($173)
Now you're totally ready to face the elements (and the music), girl!
Don't forget to check out: What You Should & Shouldn't Pack For Your Trip To Vegas, What To Wear To Brunch With Your Girls and 5 Ways To Wear A Plaid Shirt (You Can't Go Wrong No Matter How You Do It)
[Photo: Free People]