If the phrase "He went to Jared" makes you cringe, we found a Valentine's-worthy piece of jewelry that you'll love. Three Jane's Map Necklace ($175) is a gold-plated map which uses a diamond to identify an important location–can be a street address, a neighborhood, your home town. The customizable piece, which is flying off shelves and earning a celebrity cult following, is sweet and clever–but, most importantly, something that none of your friends will have. Three Jane owner and designer Katie Schloss, who's earned a celeb following in Olivia Wilde and Anna Kendrick, came up with the concept when her "sister was studying abroad in Europe, and I was coming over to visit for her birthday. I couldn't think of a gift for the girl who has everything, so I made a Map Necklace of our house in Connecticut, that way she could have a little piece of home wherever she went." Love it!
Allison Williams (Marnie Michaels on HBO's Girls) is a fan of the map necklace; hers marks a multi-generational family home in New Canaan, Connecticut where both her and her mother grew up. "I love that you can personalize these to mark an important place with a small diamond. They are just so special and I fell instantly in love with the concept," Williams told Stylist.com.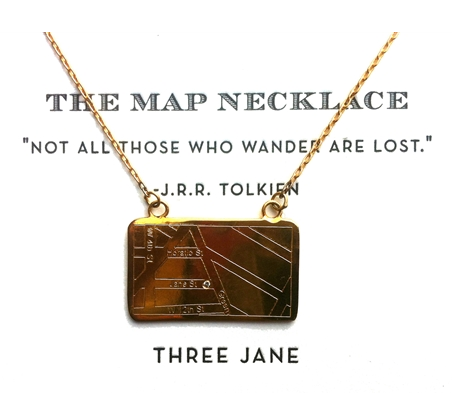 But, if your parent's home isn't the same place you call "home," the Three Jane Map Necklace can be fashioned to any locale you want. They even come pre-made, if you want a popular location like a specific college, a well-known travel destination, the ending point of a special marathon or even a hospital where you or your child was born.
"I'd say at least a quarter of customers email to say that the gift's recipient cried when the necklace was given, " says Schloss. "I've had customers whose homes were destroyed as a result of Sandy or another weather system, and they always say that this piece of jewelry actually brings them home again."
It's the perfect gift for new moms, best friends, graduates or just as a reminder to yourself to appreciate your physical location or mark a milestone, click here to create your own.