Online shopping is the greatest thing ever. It's easy, convenient and time-saving. In fact, most of my wardrobe has been bought online rather than in-stores. But for plus size shoppers, online shopping (and clothes shopping in general) can be a daunting experience. Many of our favorite brands only offer sizes Extra Small through Large, making it difficult for people whose body sizes fall outside of these measurements to purchase fashionable, affordable and well-fitting clothes. A discrepancy in what constitutes as "plus-sized" may be the reason why plus size women have such a tough time online shopping. According to Cosmopolitan, the fashion industry refers to women above a size 8 plus-size. Studies show, however, that the average American woman is a size 16! Whether you're a size 16 or size 22, a double XL or a quadruple XL, every woman deserves to to shop online stress-free. Here a few of the best online plus size boutiques and some of their items that we love!
1. ELOQUII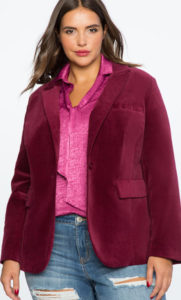 Eloquii Velvet Blazer ($139.90)
New York-based boutique Eloquii.com is one of our favorite places to shop for plus-sized clothing. They cater to sizes 14 through 28 and have new styles released daily — like this classic, velvet blazer. Velvet anything is a must-have during the winter season. What we love about blazers is that they can be worn casually or as business-casual. Sizes 14, 16, 18, and 24 are currently available for this super stretchy and stylish velvet blazer.
2. 6PM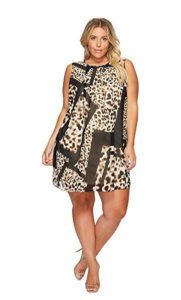 6PM.com
is a go-to site for online plus size shopping. This Las Vegas-based boutique is essentially an online department store, featuring brands like Ralph Lauren, Michael Kors and this beautiful leopard-print dress by Calvin Klein. This A-line dress comes in sizes 14 through 24.
3. TORRID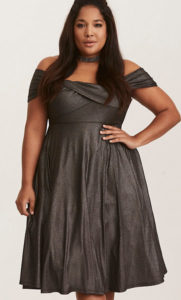 Torrid Retro Chic Silver Metallic Twist Front Midi Swing Dress ($37.45, originally $74.90)
Torrid, formerly owned by Hot Topic, has brick-and-mortar stores, but we love Torrid.com because you can always find the items you need in stock, at the right size, and for the right price — Like this beautiful metallic, A-line cocktail dress. Torrid sizes range from 00 to 6, the equivalent of M/L through 6X.
4. LANE BRYANT
Lane Bryant Lena Tailored Stretch Wide Leg Pant – Corset Lace-Up Back ($69.95)
You may recall Lane Bryant's 2017 #ThisBody campaign that inspired many women, plus-size and not, to be happy and comfortable with their body and size. Lane Bryant is another brick-and-mortar retailer, but you'll also find amazing styles and prices at LaneBryant.com. If you were wondering where you could find those amazing corset lace-up pants that Beyoncé recently wore, these are pretty similar!
5. URBANOG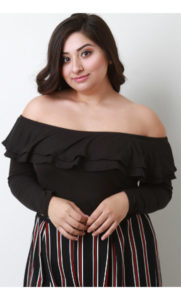 UrbanOG Double Flutter Tier Bardot Vegan Suede Top ($16.96, originally $26.10)
UrbanOG.com is a premier online retailer that features many options for plus-size women. Like this gorgeous ruffled blouse that comes in size 1X, 2X and 3X, and colors black and burgundy. Also, UrbanOG is currently having a 35% off site-wide sale with $2 shipping and handling. Just enter in discount code "12617" at checkout.
So now that you know about the online plus-size boutiques, find out which of your favorite brands offer plus-size options as well at SheFinds.com
[Photo: @nicolettemason]