Limiting yourself to "diet" food like salad won't actually help you lose weight because everyone needs to eat protein. "Think about eating a salad with vegetables and dressing versus eating a salad with vegetables, dressing, salmon, chickpeas and sunflower seeds," says Julie Andrews, The Gourmet RD. Which would leave you feeling happy and full and which would send you running for a bag of chips? "Protein helps maintain and build muscle, which helps burn fat and keeps you feeling fuller for longer," she says. Eat a variety of proteins this month to help reduce belly fat.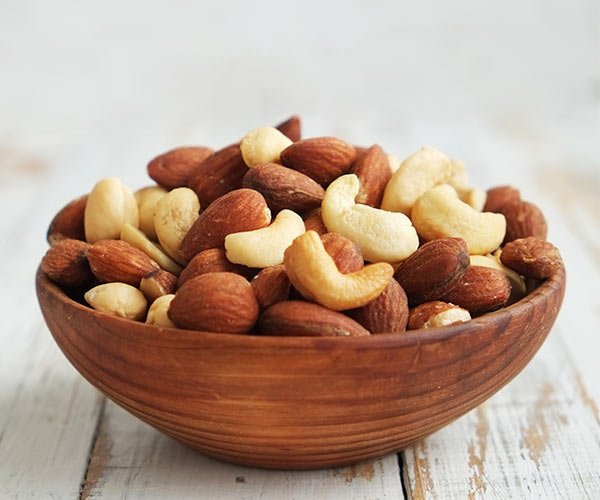 Almonds, walnuts, pecans, cashews and sunflower seeds, are packed with protein (about 4 to 7 grams per ounce), fiber and heart-healthy fats. "Nuts and seeds are calorie-dense so it's important to pay attention to portion size," says Andrews. A handful of nuts are a great snack or addition to a meal (when you need just a touch more to eat but aren't sure what). Andrews says all nuts and seeds are great for making pesto and sauces, for blending into smoothies, adding to salads and layering on to yogurt and oatmeal.
Get familiar with the seafood section of your supermarket. "A 3-ounce serving of fish contains 19 to 26 grams of protein," says Andrews. Fatty fish like salmon, tuna, mackerel, lake trout, herring, albacore tuna and sardines are especially healthy because they are great sources of omega- 3 fatty acids. We're not trying to malign other types of seafood. Andrews says that fish such as cod, halibut, snapper, shrimp and scallops are also excellent sources of protein, but without the omega-3 bonus. This salmon grain bowl is one of our fave recipes from Andrews!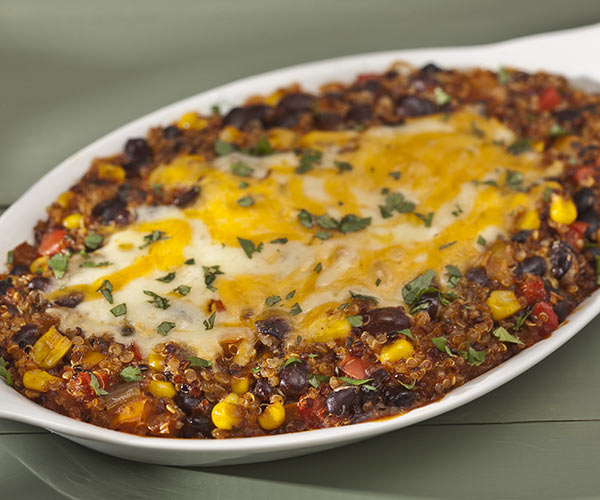 You don't need to eat a lot of ground beef to get healthy protein. In less than a 4-ounce serving there's about 22 grams of protein and lots of vitamins and minerals. But you must make sure the meat is lean, 90% lean (or lower) or the high fat content will not help your belly goals. Use ground beef almost like a filler. Bulk it up with beans, veggies, quinoa and a small handful of low-fat cheddar cheese to make a quesadilla or salad. Or make your own meatballs and add ground flaxseed for an omega-3 fatty acid boost.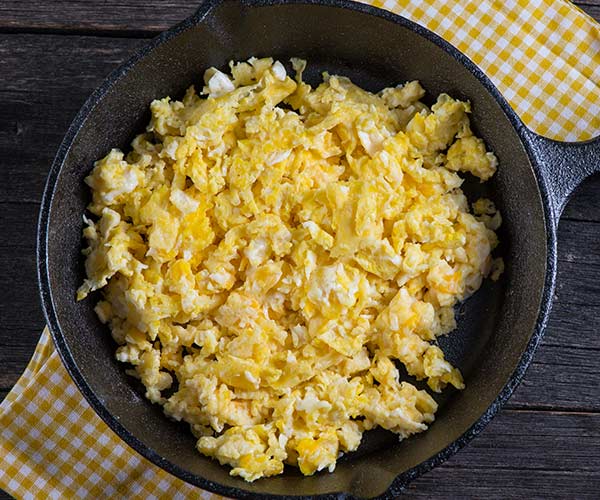 Eggs should be the centerpieces of your breakfast, says Stacy Goldberg, a nutritionist at savorfull. We love them any time of day. She suggests 2 omega-3 enriched cage free eggs cooked in 1 teaspoon of olive oil. "And yes, you should eat the yolks!" says Goldberg. That's the part that keeps you feeling full and satisfied – plus it has much needed vitamin D and biotin. The extra omega-3 adds to the anti-inflammatory benefits of eggs, as does the olive oil.
Have you ever eaten pulses? Probably and you never realized it! "Pulses are plant-based proteins that fill you up, help keep you regular and even help reduce cholesterol thanks to soluble fiber," says Rachel Swanson, a RDN at Lifespan Medicine. Pulses include dried beans, dried peas, lentils and chickpeas. Research shows that people who eat pulses can experience significant weight loss even if they don't stick to a diet of restricted calories. "What's better then eating food and still being able to lose some extra lbs.?" asks Swanson. We a hearty bowl of bans soup or making chickpea salad with red onions, cherry tomatoes, cucumbers and mint leaves.
We cannot have chicken for dinner again. Not. Again. Yes, chicken can be so very boring but we need it. "It's a great way to get protein without excessive fat and carbohydrates," says Alix Turoff, a New York City nutritionist and trainer. "It can be cooked in a multitude of ways, is more affordable than other meat sources and is available at almost every restaurant," she says. Again that's why we're sick of it. So let's get creative. Make chicken kebabs with onions and zucchini or stuff peppers with shredded roasted chicken and quinoa. If it can help you get a flat belly, then it's worth trying!
Oatmeal has protein and fiber. In ¼-cup of oats there's 5 grams of fiber and 7 grams of protein. This duo is powerful when it comes to weight loss. Fiber aids in keeping insulin levels low which in turn may help shrink fat cells. It's also chewy and takes longer to eat. That means you eat it slowly enough to notice when your body feels full. The result: no mindless overeating. The fiber absorbs moisture, which can help you feel full longer because it occupies more room in your stomach and takes longer to digest. You def want steel-cut oats: They're not pre-cooked and are processed in a manner that helps them maintain more fiber and protein than instant varieties.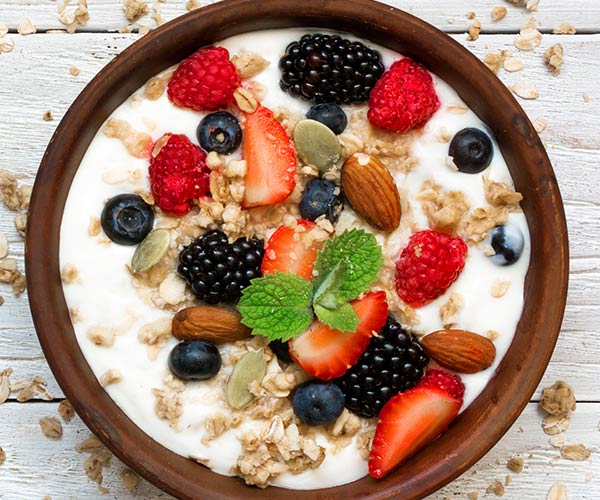 If you tolerate dairy, there's a lot of Greek yogurt in your future. It's a super breakfast or snack with a lot of protein – one cup gives you 20 grams. Always choose plain and low- or no-fat varieties and never anything with added flavors and sugars. Cottage cheese comes in a close second with 24 grams of protein in a cup. The issue is sodium and those curds have lots so always read labels.
[Photos: Shutterstock]