Highlighting was one of the biggest makeup trends this year! Whether it was gold, silver or champagne, or powder, liquid or cream, people could not stop applying highlighter to their faces! We loved the trend this year and we don't think it's going anywhere in 2018! However, we predict that purple highlighter will be the next big makeup trend, especially since Pantone named Ultra Violet as the "Color Of The Year" for 2018. Here are 5 of the best purple highlighters that you'll be applying to your cheekbones in 2018! And the best part? They're all $40 or less!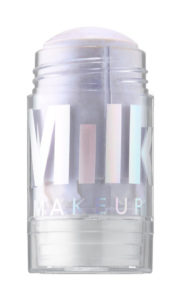 Milk Makeup Holographic Stick ($28.00)

The Milk Makeup Holographic Stick comes in three shades, but we're focusing on color "Supernova." This creamy highlighter stick gives an iridescent, pearly glow. It's also made with mango butter, coconut and avocado oils, so it's nourishing for your skin.
"Love the unicorn glow this gives. It blends really well with a sponge. It does move around makeup a bit if you apply it directly with the stick to your cheek. I tap it on with fingers or with sponge. Definitely buy this one if you like that subtle unicorn highlight." -campbellgirl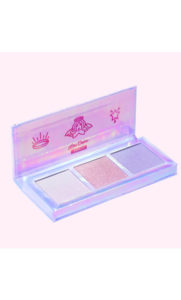 Lime Crime Mystical Highlighter Palette ($38.00)
Lime Crime's Mystical Highlighter Palette includes shades "Heaven," "Halo" and "Celestial," which is the shade we're focusing on. This cloudy-blue shade gives off an iridescent purple glow that is to die for. Lime Crime is also one of our favorite cruelty-free, vegan makeup brands, so there's no reason to feel bad about purchasing this gorgeous palette!
Fenty Beauty By Rihanna Match Stix Shimmer Skinstick ($25.00)
Fenty Beauty by Rihanna's Match Stix Shimmer Skinstick in color "Unicorn" gives a silvery, lilac glow. This highlighter is lightweight and buildable, delivering a controlled-yet-fun purple glow.
"I have several of these shimmer sticks and I loooove them! You can swipe your cheek and buff it out with one of [Rihanna's Fenty Beauty] brushes. The colors are very fun and vibrant. I highly recommend these because I've used them so much to where I hardly use my other highlighters and blushes #oops." -ChaoticCoconut
Becca Shimmering Skin Perfector Pressed ($38.00)
This chrome, lavender highlighter comes as a creamy pressed powder. It contains color-shifting pigments that reflect in the light for a perfectly purple glow.
"I didn't like many highlighters until I found this. It gives an ethereal glow to pale skin, and I've found myself wearing it almost daily. The texture is silky, not chalky, and it lasts all day for me." -retroredhead
Anastasia Beverly Hills Moonchild Glow Kit ($40.00)
The Anastasia Moonchild Glow Kit contains six shimmery hues including "Purple Horseshoe" and "Blue Moon," both of which give a lavender glow. The glow kit is powder, but can be used dry or wet depending how concentrated you want your glow to be.
"I am medium to fair skin with yellow undertones. I feel that my skin complements each one of these colors as a highlight as well as to use them as shadows. I also love applying some to my lipstick to create an effect. The two darker colors (purples) do not come off dark on me. In fact I really love how they look." -May
So what do you think? Will purple highlighters be the next big makeup trend next year? Let us know if you'll be rocking the trend in the comments below!
And if you're new to the highlighter scene, check out our beginner's guide to applying highlighter at SheFinds.com!
[Photo: Sephora]