The ladies of Mad Men are hotter than ever this year and we love the idea of dressing up as them for Halloween, especially since the clothes are oh-so-covetable. With the Janie Bryant for QVC line, and so many vintage inspired dresses at ModCloth – it's especially easy this year:
For starters, the curvaceous Joan Holloway, with her form-hugging dresses and mod accessories, is one costume that will make your guy's mouth drop.
Paired with her signature red hair, this firey Wardrobe Essential Dress ($79.99) from ModCloth is exactly the type of piece Joan would wear around the office. But it earns bonus points for being totally wearable (and wallet-friendly!) in the real world, too.
Leopard is everywhere this year, and this Janie Bryant MOD Retro Animal Print Handbag ($79.75) from Mad Men stylist Janie Bryant's QVC line, will be the perfect complement to your siren-red dress.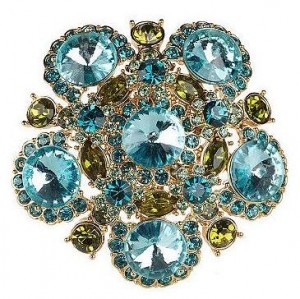 Joan often accessorizes with brooches and this MOD Multi Color Floral Motif Pin/Enhancer ($72.50), also from Janie Bryant's QVC line, looks like it could have been found in a vintage store. Just throw on a pair of great pumps and a swipe of red lipstick, and you're all set, Ms. Holloway!
But Joan isn't the only Mad Men-inspired Halloween costume we have in mind this year. There's also Betty Draper, whose more demure sexiness is wrapped up in ladylike frocks and lace gloves.
This Rose Menagerie Dress ($117.99), also from ModCloth, has Betty Draper written all over it. And we're already planning on wearing it to garden weddings come spring.
These White Cat-Eye Sunglasses ($11.91) look exactly like the ones Betty wears on Mad Men and, conveniently, the cat-eye trend is huge this year. Rock them with a leather bomber jacket once they've served their Halloween purpose!
The key to this look, though, might just be a pair of sweet lace gloves ($2.98). If you'd like, add on a headband and a ladylike purse, and you're good to go!
Feeling more Jersey Shore this Halloween? Find out how to turn yourself into Snooki. Or, go the pop star route as Lady Gaga or Katy Perry. Then, check out our guide to the best dresses, sunglasses, and brooches.