We're always looking for a simple heel that will go with any outfit we throw on. That's how we discovered the amazing 'Tribute' T-Strap Platform Sandal ($895) by Saint Laurent. The platform makes the heels way more comfortable, plus the weaving at the toes is so beautiful. What's not so beautiful is the steep price tag! Luckily, during our searches, we also came across Steve Madden's Kananda Platform High-Heel Sandal ($109). It's pretty much identical to the Saint Laurent shoes, minus the T-Strap, which, tbh, we could totally forgo if that means spending a quarter of the price on great heels.
But before you buy, click below to find out which shoe costs $786 less than the other!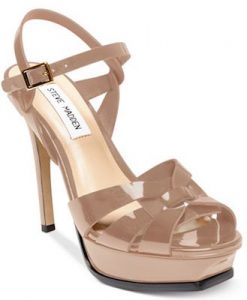 Be sure to check out A Complete Timeline of Ben Affleck and Jennifer Aniston's Relationship and This Amazing Resort in Mexico.
SheFinds receives commissions for purchases made through the links in this post.