This just happened, people: Christian Louboutin is doing UGGs.
As if there weren't enough UGGs on this planet already, the French designer just released his take on the shlubby shoe. Instead of his signature sky-high, red-bottom heel, the new pair of Louboutins features a slouchy, mid-ankle shaft, a shearling lining and flat, arch-less sole. Sure, they come in leather and not the soft suede of your typical UGG – but that's just like the UGG collection. So, yea, they're "fancy UGGs."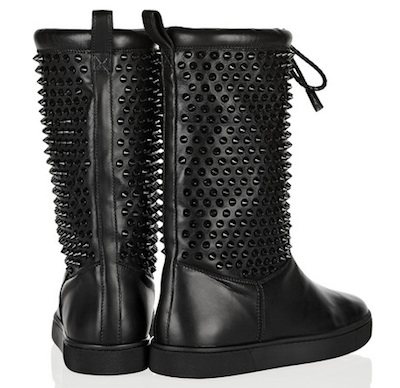 Called 'Surlapony Spikes' and sold on Net-A-Porter for $1,895, the Ugg-inspired boot is already sold out in most sizes (7 1/2, 8, 8 1/2, 9, 9 1/2…). Yes: $1,000 UGGs are flying off the shelves. #Normal
So, if Louboutin makes UGGs, does that mean it's OK to wear them now?? Will the societal biases against UGGs finally go away?? Sound off in the comments below: would you wear designer UGGs, or are these as bad as the originals?!