Want an easy way to get rid of stubborn belly fat? Just eat! Eating a combination of anti-inflammatory food with lean, low calories veggies and proteins is the best way to flush belly fat. The part is—you can make them all in your crock pot!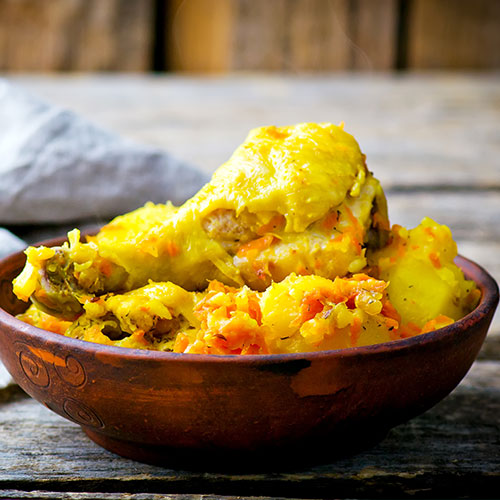 This isn't your plain ol' chicken and potato dish. Featuring an exotic blend of spices, this chicken crockpot meal's main star is Tumeric. Tumeric's active ingredient is curcumin—which has powerful anti-inflammatory effects and a very strong antioxidant. Eating it regularly helps increase bile production in the stomach which helps in emulsifying fat and metabolism. Combine turmeric's anti-inflammatory power with low-fat plain yogurt's satiating protein ability and you have an easy dish that will keep you feeling fuller longer and control appetite.
You'll need:
Plain yogurt
Extra virgin olive oil
Lemon
Turmeric
Garlic salt
Curry powder
Chicken breasts
Green beans
Baby potatoes
Cilantro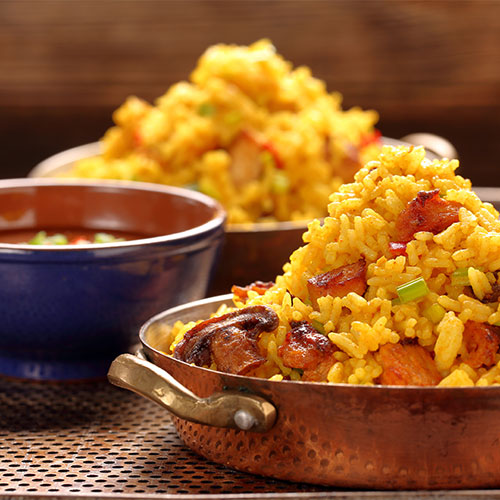 Think rice is off-limits if you want to lose belly fat? Nope! It's all about the type of rice and packing it full of flavors. White rice often gets a bad rep, but switching to brown or wild rice will not only satisfy your rice craving, but it's also healthier too! Brown rice is rich in selenium and manganese, which helps improve heart health. It's also high in fiber which helps promote weight loss. Wild rice is also high in fiber–great news for your midsection. Turmeric is the main ingredient in curry spices. Mix that with the anti-inflammatory power in broccoli and mushrooms and you can't go wrong with this rice dish.
You'll need:
Brown rice or wild rice
Broccoli finely chopped
Mushrooms finely chopped
Green cabbage finely chopped
Vegetable broth
Black pepper
Garlic powder
Himalayan Salt
Thyme
Apple cider vinegar
Curry powder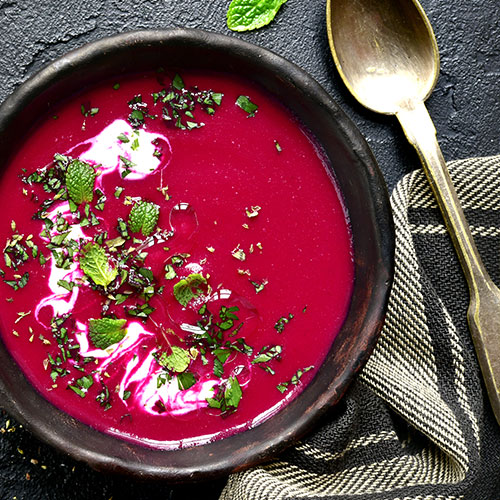 This soup seems like an odd combination of flavors, but believe it or not, it pairs together beautifully. Beets are naturally sweet and contain a nutrient called betaine, which has been shown to decrease the risk for inflammation. Combine that with strawberries anti-inflammatory properties and you have a savory-sweet soup that will have you looking slimmer in no time.
You'll need:
Beets, peeled
Bone broth or chicken broth
Salt
Black pepper
Fresh strawberries, hulled
Buttermilk
Hempseeds or sesame seeds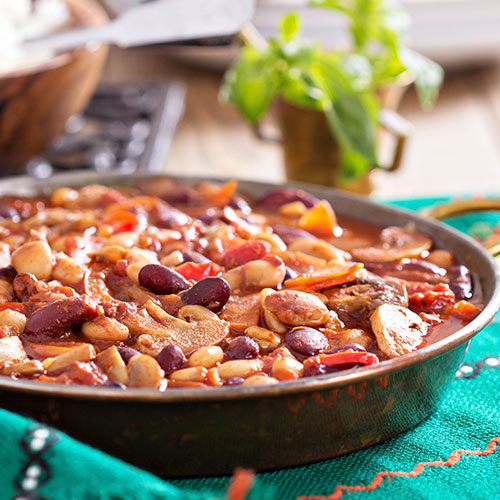 Chili is a hearty meal that will satisfy the hunger for hours. Made with the right combination of ingredients, it can be a healthy, low-calorie, anti-inflammatory powerhouse that will drop inches from your waist. The star of this dish is the beans. Beans and legumes combat inflammation because they're loaded with antioxidants and anti-inflammatory compounds, fiber, and protein. It's okay—go heavy on the beans!
You'll need:
Onions
Garlic
Carrots
Celery
Lean ground beef, turkey or buffalo
Kidney beans, drained
Pinto beans, drained
Nomato Sauce
Cumin
Oregano
Sea salt
Vegetable broth
Black pepper
Cilantro