Every once and a while, it's nice to be able to save a quick buck. However, when it comes to creating the perfect beauty routine, the long list of products can add up quickly. It's burdening to know that wanting dewy skin or shinny hair, means you have to dish out a pretty penny. But! What if we told you that beneficial beauty staples could be hiding in your very own kitchen (costing you a fraction of beauty supplies at retailers charge)?
While there's a long list of natural at-home remedies to practice, we're focusing on our top four for the over 40 year old crowd. These hacks will not only leave your skin and hair pristine and aid in anti-aging properties, but these practices will keep you and your bank account happy.
*Even though these are natural beauty hacks, always remember to patch test ingredients and products on your skin before applying product to your face (we recommend the forearm or ankle).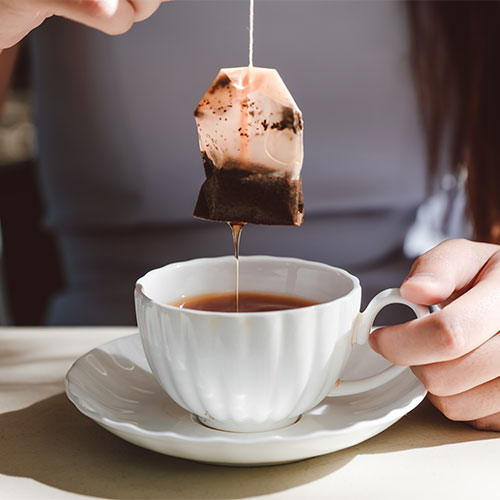 Shutterstock
A wonderful way to unwind and decrompress... tea! Although, we're using this magical beverage a different way, in particular chamomile tea. The properties in chamomile tea when applied to the face, act as both an anti-inflamatory and antioxidant booster. Working wonders for the skin, concentrations of the tea can fade dark spots, even out skin tone, and reduce the onset of free radical damage (from outside factors).
We recommend brewing a very strong concentration of chamomile tea and pouring over into ice cube trays. Each morning grab a chamomile cube and begin pressing into the face and neck. Not only with the cooled tea wake you up, but wake up the cells in your skin and start the morning off strong.
Shutterstock
What can we say, we love tea! As well as the many amazing properties various types of tea can have on our skin. When we age, our skin comes into contact with different outside elements and internal changes (like collagen reduction). We love matcha tea on the skin because it is a natural elastin producer. When applied directly, Matcha can add a dewy bounce and shape into our skin. Additionally, matcha is also a great source of antioxidant nutrients - which is a great fighter in preventing the onset (or reducing) the apperance of wrinkles.
To apply matcha, simply add a touch of water and stir. The mixture will combine and create a clay mask. Start by applying the water slowly into the tea (as it will be harder to stay on if too runny). From there, leave on for 10-15 minutes and rinse with warm water. It's recommended to practice this routine twice a week for the best results.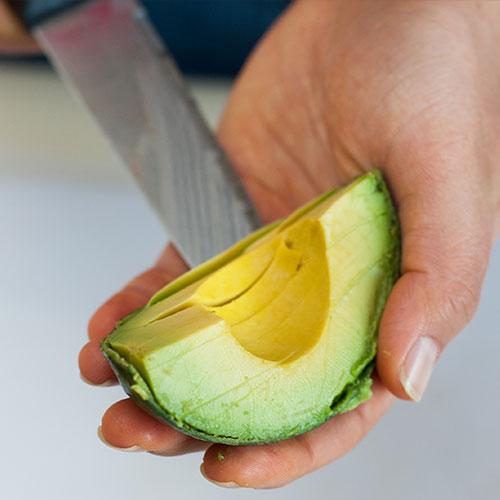 Shutterstock
The same reason avocados are loved on the keto diet, is why they're a prized ingredient for natural hair health. Full to the brim in healthy fats and amino acids, avocados lock in moisture and promote healthy hair growth.
To make an avocado hair mask, apply mashed avocado (with olive oil and honey if desired) to damp hair. Keep on for 15 minutes and rinse with warm water.
Shutterstock
As mentioned, when we get older our skin begins to thin and lose the protective fat-rich layer underneath the surface. While we're familiar with the effects that can show up on our facial skin (sagging and wrinkles), the skin on our body can be impacted too. When we knick, bump, or sratch a surface, aged skin is prone to bruise easily. As walking around in bruises is not ideal, we have the perfect at-home solution for you. Banana peels! Yes, the enymes and nutrients in banana peels (like potassium) help heal the bruising and scaring quicker.
To gain the benefits of the magical banana peel, place the banana peel (flesh side down) on top of your bruise. Secure with a bandage and keep overnight. Repeat this until the bruise has gone down completely.
For more beauty tips and tricks, or effective beauty hacks, check out SheFinds.com