Everyone knows the importance of a facial moisturizer in the winter. The cold, dry air leaves our skin rough, dry and sometimes even cracked, and the face gets the brunt of it since it is the most exposed. So obviously a powerful moisturizer that doesn't irritate your skin or leave it feeling sticky or weighted down is imperative.
But did you know moisturizers play another role in our skincare routines? Moisturizer is one of the most important steps to anti-aging skincare because it smooths the skin to prevent wrinkles or sagging. Plus, there are many moisturizers on the market that also provide important ingredients to your skin, like collagen or hyaluronic acid, which work to combat the signs of aging.
Now, you're probably thinking that these great moisturizers are probably going to cost you a pretty penny – but they won't. We found the best affordable moisturizers with shining reviews from dermatologists. And the best part is you can find each of them in a drugstore.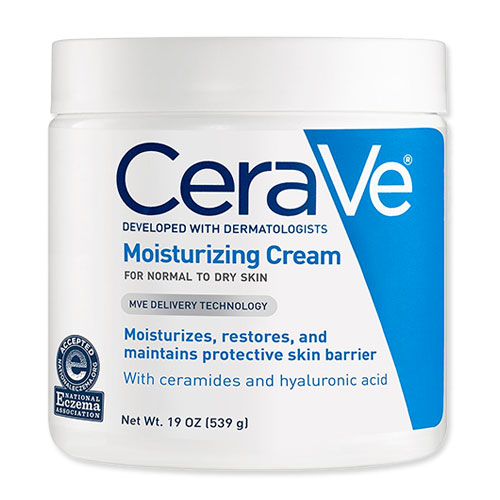 1. CeraVe Moisturizing Cream Daily Moisturizer
CeraVe Moisturizing Cream ($17.04)
What It Does
- Hydrates skin while restoring the protective skin barrier with essential ceramides
- Uses hyaluronic acid to help maintain skin's natural moisture
- Replenishes ceramides and moisture over a 24-hour period with a patented controlled release technology
Why Dermatologists Love It
"My absolute favorite cream for body and face is Cerave moisturizing cream. It doesn't leave your skin feeling sticky after application but at the same time does a great job of moisturizing. Even better, it's fragrance-free and people who have sensitive skin don't get irritation from this cream since it is so mild," Dr. Lindsey Bordone, MD, of Columbia Doctors told Health.com.
Promising Review
"I love this cream. I put in on a dry face cloth after my shower to get it all over my body, and to trap the moisture of the shower. The face cloth picks up the excess moisture from my skin as it puts a layer of moisturizer over the skin. It works very well. I was getting some very dry spots on my aged skin and I looked for something to help. I did a lot of reading, and settled on CeraVe. I haven't been disappointed." - handicapped shopper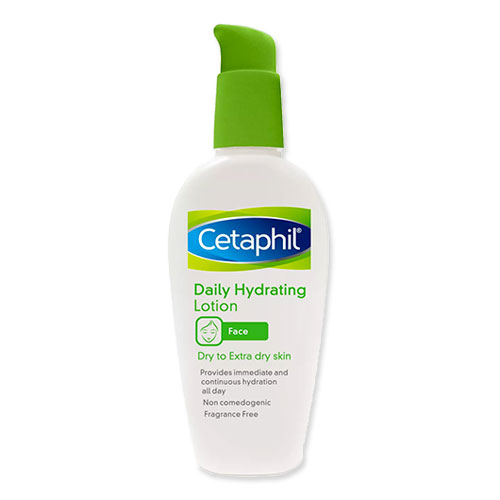 2. Cetaphil Daily Hydrating Lotion
Cetaphil Daily Hydrating Lotion ($12.49)
What It Does
- Hydrates the skin immediately and provides lasting moisture throughout the day
- Nourishes and softens the skin while relieving dry spots
- Smooths the skin for a healthier and younger-looking complexion
Why Dermatologists Love It
"This drugstore find is great for dry skin, because it contains hyaluronic acid that works to hydrate skin and lock in moisture, while feeling lightweight and non-greasy," dermatologist Dr. Sonia Batra told Oprah Magazine.
Promising Review
"I have been using this for about four or five months now and it works great!! It is not too greasy and it doesn't clog your pores yet effective enough to keep your dry skin hydrated and glowing! I'm glad I took a chance on this because my skin is very stubborn and not many lotions work well on my face. Good stuff!" - Shaebear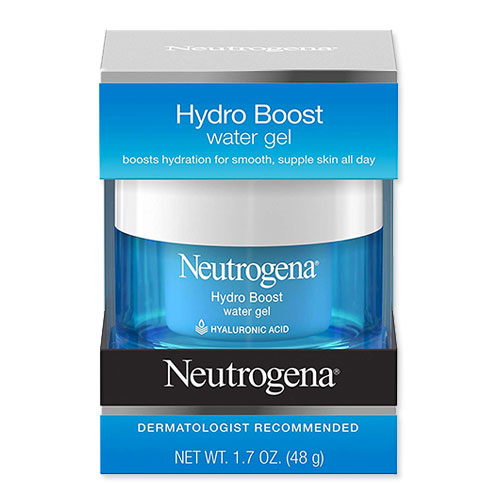 3. Neutrogena Hydro Boost Hydrating Moisturizer
Neutrogena Hydro Boost Hyaluronic Acid Hydrating Water Face Gel Moisturizer ($14.49)
What It Does
- Uses a gel-based formula made from hyaluronic acid to boost the skin's moisture levels and maintain hydration
- Leaves the skin soft and supple for a younger-seeming appearance
- Features a light texture that can be worn under makeup
Why Dermatologists Love It
"Hyaluronic acid is like a sponge that pulls in water to the outer skin layer from deep within the skin or even from the air if you are in a humid environment. This gel-based moisturizer is extremely light, and can be used across a variety of skin types and during all seasons without wearing the skin down," Dr. Joshua Zeichner, MD, of Mount Sinai Hospital, told InStyle.
Promising Review
"This is the moisturizer I have been waiting for my whole life. I have tried moisturizers from what feels like every brand - from the drugstore to the high-end expensive stuff at Sephora. This stuff feels incredible on my skin - it feels like a relief to put it on. It's not even remotely greasy, absorbs almost instantly, and has the lightest, cleanest fragrance. Other, heavier moisturizers left me with tiny clusters of new blemishes every morning (so frustrating), but this hasn't clogged my pores at all, and my skin feels soft & plump. I also use this moisturizer to cut my CC cream/foundation to make it lighter (in body, not in pigment). LOVE!" - meems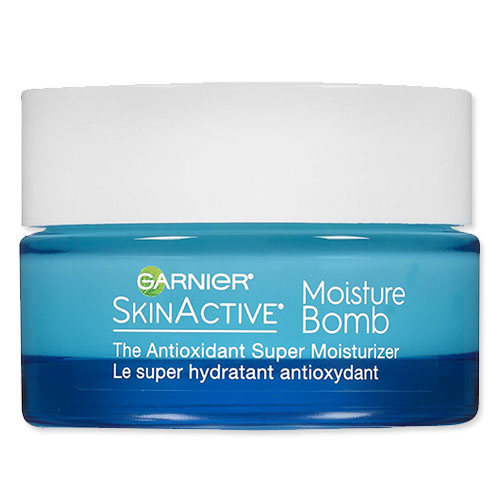 4. Garnier SkinActive Gel Face Moisturizer
Garnier SkinActive Gel Face Moisturizer with Hyaluronic Acid ($12.42)
What It Does
- Made with a gentle formula to provide intense hydration to dry skin
- Rebuilds the skin's natural moisture barrier with hyaluronic acid
- Brightens the face and combats signs of aging with Vitamin C
Why Dermatologists Love It
"[Humectants] draw water up from the dermis (the inner layer of skin) to the epidermis (the outer layer of skin) and absorb moisture from the air," Dr. Yoram Harth, MD, told Prevention.com of the ingredients in this moisturizer.
Promising Review
"I absolutely love this face gel! I found it at a discount store and when I ran out, I found them here at a price that can't be beat by local stores. This makes your face feel so soft and hydrated, no kidding! I am 50yrs old and always looking to keep my skin soft to combat wrinkles and this does just that for me. I will keep ordering this as long as it is on Amazon!" - Alan & Tisch Hicks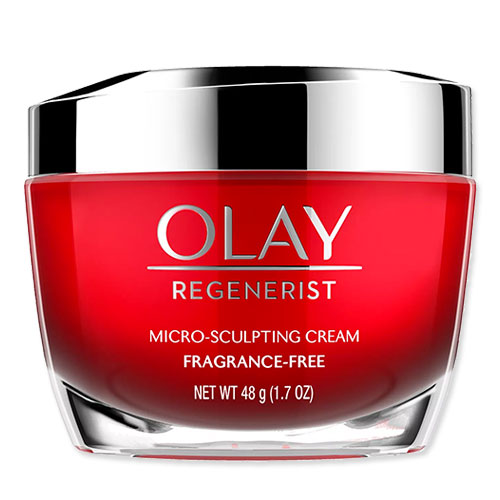 5. Olay Regenerist Micro Sculpting Cream
Olay Regenerist Fragrance Free Micro-Sculpting Cream ($21.99)
What It Does
- Regenerates the skin's surface with amino-peptide complex to correct the look of deep wrinkles
- Instantly plumps and lifts surface cells with moisture-binding formula
- Penetrates deep into the skin to hydrate and improve skin texture and elasticity
Why Dermatologists Love It
"[This moisturizer] has the efficacy promised by expensive, beauty-counter products," Marnie Nussbaum, MD, told NBC News about the Olay Regenerist Micro Sculpting Cream.
Promising Review
"I am just about to turn 30 and with that I noticed some crows feet beginning and between my eye brows and we're becoming prominent. I have been trying the product for about a week and pairing it with olay sea kelp and aloe facial cleanser and I'm excited about the results!! The fine lines are vanishing and my black heads and redness that I've had my whole life are going away!! I have tried what seems like everything under the sun and nothing has touched any of these problem areas on my face! My holy grail and never using anything else on my face!" - PNW1989
SheFinds receives commissions for purchases made through the links in this post.