Bed, Bath, & Beyond is our go-to superstore for all our home needs. But it's more than just a place to buy teapots and towels. The megastore is a destination for everything from home decor and appliances to groceries and makeup (yes, makeup). You might think you know everything about BBB, but there are many shopping secrets about the store (including things you never knew about their infamous store coupons). Click through the slideshow to find out TK things didn't know about Bed, Bath & Beyond.
[Image: Shutterstock]
The stores restock their sales on Mondays. So if you want first dips on the best sale items, shop on Mondays.
[Image: Bed, Bath & Beyond]
Bed, Bath & Beyond mail coupons never expire, so don't throw them out! However, keep in mind that the store does hold mobile and online coupons to their expiration date.
[Image: Bed, Bath & Beyond]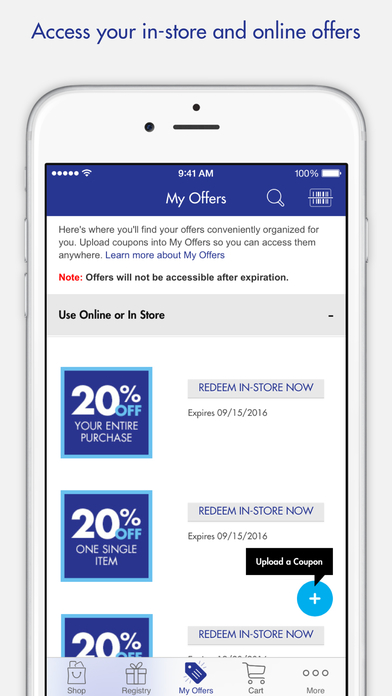 There are lots of different ways to get BBB coupons. This includes mailers, Facebook, email, and text message. The Bed, Bath, & Beyond app is one of the best ways to get coupons and keep track of store deals.
You can also use multiple coupons at a time. The rule is one coupon per item. So start saving those 20% off per item coupons!

[Image: Bed, Bath & Beyond]
Coupons can be used across Bed Bath & Beyond company stores, which include: Cost Plus World Market, Harmon Face Values, Christmas Tree Shops, and buybuy BABY.
[Image: Bed, Bath & Beyond]
Bed, Bath, & Beyond allows you to sign up for wedding and gift registries. On top of having an amazing selection of items, when you sign up for a wedding registry, BBB will also send you extra coupons to help you complete your list. They even have in-store events to assist you with your registry.
[Image: @bedbathandbeyond]
Some BBB locations sell groceries and beauty products. Which means you can use that 20% off coupon to buy things like nail polish, makeup, and shampoo!
[Image: Bed, Bath & Beyond]
BBB offers extra coupons and tips for people who are moving. Check out their moving site here.
[Image: @bedbathandbeyond]