Protein is the key to just about every healthy diet out there, whether you're trying to lose weight, maintain weight or simply be the best version of yourself. Protein reduces hunger levels and cravings, which is very helpful when you're on a diet, plus it boosts your metabolism and is beneficial for muscle mass and strength.
The downside is that it can be a bit tricky for most people to integrate more protein into their diets, because most of the foods that are high in protein – meats, fish, eggs, beans – can take quite a bit of time to cook and prepare.
You can use an air fryer to speed the process up and make many high protein meals, quick. Here are our favorite recipes: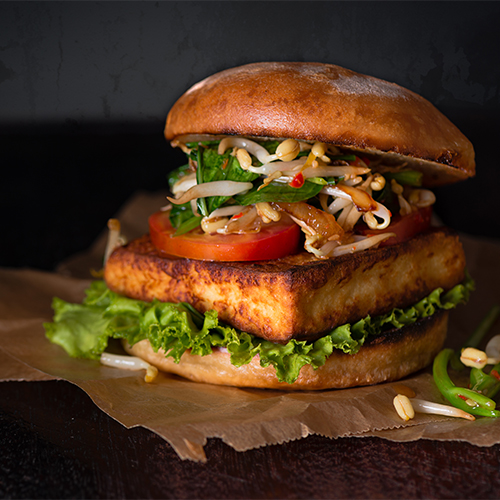 Buttermilk Battered Tofu
Tofu is very high in protein, and can be very tasty depending on how you cook it. Luckily, we found a recipe that does tofu very well. And it only takes 20 minutes to prep.
Get the full recipe: Olives For Dinner
Fried Ranch-Style Chickpeas
This chickpea recipe makes for an excellent protein-rich snack or side dish. It only takes 20 minutes to make, and the end result is delicious and nutritious.
Get the full recipe: Glue and Glitter
Roasted Salmon With Fennel Salad
This recipe shows you how you can make a roasted salmon in just 25 minutes, with a side salad and intense flavor. This is great for a quick-to-make weeknight meal that doesn't seem like it was quick to make.
Get the full recipe: Cooking Light
Air Fryer Chicken Breast
You can make a chicken breast in a similar way to the roasted salmon. This air fryer chicken breast recipe gives you a healthy and delicious dinner in five minutes of prep time and 20 minutes of cook time.
Get the full recipe: Cook The Story
Air Fried General Tso's Chicken
One of the most popular orders for Chinese take-out, General Tso's Chicken is not really the healthiest choice. But with this recipe, you can get the same taste of the classic dish, but with way less saturated fat.
Get the full recipe: Cooking Light
Air Fryer Lemon Pepper Shrimp
This shrimp recipe is a great way to impress your friends with your healthy cooking skills. It uses lemon pepper, paprika and garlic to give the shrimp intense flavors, while the air fryer ensures a healthy meal.
Get the full recipe: All Recipes
Air Fryer Chicken Tenders
Perfect for feeding your kids (or indulging in your own craving), this recipe for chicken tenders uses an air fryer to make a much healthier version of the crowd-pleasing comfort food in just 12 minutes.
Get the full recipe: Mommy's Fabulous Finds
Shutterstock
Air Fryer Brownies
Sometimes, desserts can be healthy! This recipe uses an air fryer to cook protein brownies made from banana, applesauce, cocoa powder, protein powder and chocolate chips - for a truly guilt-free dessert.
Get the full recipe: Variety By Vashti