There's no reason to run out of the house each morning without first eating a solid breakfast. Aside from feeling hangry, an empty belly leads to cravings you'd rather not battle. We like to keep the fridge stocked with all the ingredients needed for healthy, anti-inflammatory metabolism-boosting smoothies. When your metabolism functions properly you have the energy to exercise and your body is more capable of burning fat. Using anti-inflammatory foods keeps your systems balanced and working for your weight loss goals – not against them. "Making it a habit to add anti-inflammatory foods to your plate each day means controlling hunger over time and preventing weight re-gain," says Rachel Swanson, a RDN at Lifespan Medicine. Use these recipes as inspiration for your next meal.
It took us a long time to even try a green smoothie. We love a salad but the idea of liquid spinach was very unappealing. It turns out you just need to find the right recipe. "Emerging evidence suggests the phytochemical composition of foods may also have a role in weight loss," says Swanson. That includes anti-inflammatory spinach, which contains polyphenols that have potential potent effects against fat cells. When you mix it with the mellow flavor of banana and some tangy ginger it's a win-win. Ginger is an anti-inflammatory food that aids digestion and helps metabolize excess adipose tissue (that's a fancy word for fat). It also decreases hunger and bloating.
Lemon Turmeric Smoothie, Evolving Table
Turmeric and chia seeds are both high-powered anti-inflammatory foods. The issue is how do you use them? It's not like you can easily sprinkle turmeric over veggies (too potent!). The key is to layer them in a smoothie with a melody of flavors. Dr. Lisa Davis, chief nutrition officer at Terra's Kitchen, says the fat that sits on your abdomen is no ordinary fat. Aside from being really frustrating, she says that abdominal fat is, "metabolically active tissue that unleashes harmful inflammatory molecules associated with cardiovascular disease and diabetes." Turmeric counters this. It contains curcumin, a natural anti-inflammatory and antioxidant compound. When turmeric and lemon meet in this recipe the flavor is dramatically delicious. Mix in chia seeds just before serving. They have a high concentration of plant-based omega-3s that have been shown to increase good cholesterol and decease the bad. They also reduce inflammation, which in turn reduces storage of fat.
Morning Fuel, Simple Green Smoothies
This smoothie is packed with flavonoids. "If this F word sounds foreign, don't fret - it simply refers to the bioactive component of fruits and vegetables which have the potential to influence weight," says Swanson. Upping your intake of flavonoid-filled foods like blueberries, strawberries, apples, pears and oranges is associated with preventing weight gain. Whole fruits are best: they have fiber and are low calorie. The recipes married oranges with avocados, which are anti-inflammatory and packed with antioxidant. They are naturally high in unsaturated fatty acids, fiber, vitamins A, C, E, K, and many B vitamins as well as potassium and magnesium. Much of it is composed of water and fiber, and both help keep you feeling full.
Matcha, what? It's green tea: A super potent, specially harvested, and most pure of pure version of green tea that comes in a powder form. This smoothie will get you the health benefits often associated with sipping a hot cup. Green tea contains the compound EGCG, a catechin, which shines as an anti-inflammatory superstar thanks to its proven effects on a wide-ranging spectrum of conditions and diseases. It also has the ability to raise your metabolic rate, too, allowing you to burn more calories.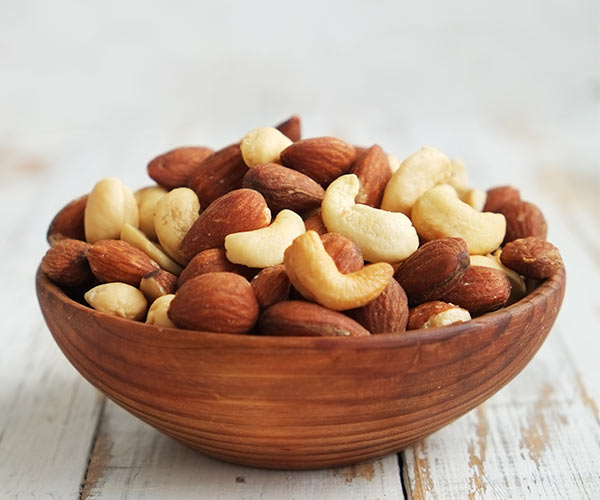 Strawberry Banana Cashew Smoothie, The Gourmet RD
Berries are an excellent choice for smoothies because they are bursting with natural sweetness and you can eat way more of them without worrying about the scale. For example, ¼-cup of raspberries is 15 calories, ¼-cup of blueberries is 20 calories and a ½-cup of strawberries is 25 calories. All berries are high in polyphenols, micronutrients that combat cellular stress by slowing down and blocking the inflammatory response in the body. This recipe calls for cashews but any nut will do. A recent study showed that people who ate walnuts felt less hunger and had better impulse control when exposed to tempting foods, while other studies have shown that people who eat any type of nut weigh less than people who don't.
[Photos: Shutterstock]