With our vacation days limited as we enjoy the final days of August, there's only one thing that can cushion the blow of summer's end — Labor Day Sales. It's hard to believe that it's already time, but September is just a few days away and as bittersweet as it is, we really can't wait to shop all of the amazing deals. This year, we're very #blessed with a killer ASOS Labor Day Sale to help us get our closets ready for Fall.
With Labor Day fast approaching, September 3 will be here before you know it. Amongst the family barbeques and end-of-summer blowout parties are a whole slew of Labor Day sales to browse. And we must admit, as much as we hate to say goodbye to this season, saving a ton of money at your favorite retails, does make it a little bit better.
If you're a serious shopper like us, then you've already started researching which stores will have Labor Day sales this year. Old Navy, Macy's, Nordstrom, Lord & Taylor, and many, many more retailers have already started their shopping extravaganza!
So, join us in numbing the pain of the dwindling summer with a little shopping spree. Let's take a look at what ASOS is offering us for this holiday weekend shopping event!
Will ASOS Have A Labor Day Sale This Year?
The answer is a big YES! In fact, ASOS has already started their Labor Day Sale. Right now if you go to ASOS, you'll find a major deal going on across the entire website. The ASOS Labor Day Sale gives you 20% off everything to celebrate Labor Day weekend. This includes men's and women's apparel. All you need is to enter the code DAYOFF at checkout!
When Does The ASOS Labor Day Sale Run?
The ASOS Labor Day Sale is available online right now so don't waste another minute. Unlike most other Labor Day Sales, this one ends a little earlier. The 20% discount expires on Thursday, August 30, at 3:00 AM EST. So while ASOS was super generous to start their sale early, it's ending super early, too. Like we said, HURRY!
Here's What You Should Shop At The ASOS Labor Day Sale:
We may still be wearing our shorts and crop tops right now–especially since it's 90 degrees out across the country–but our time left with our summer wardrobe is limited. While there are bathing suits and tank tops on sale for the ASOS Labor Day Sale, we recommend setting your sights on Fall apparel. Shopping Fall merchandise will ensure you get the most use out of your purchase for the upcoming season.
Take a peak as the denim and leather jackets that ASOS is carrying right now. It may also be smart to stock up on new denim jeans or work-appropriate tops. ASOS has a huge selection of trendy styles and with the 20% discount, you can get them for cheap. Since we enjoy wearing dresses for the first few months of fall with a pair of boots, you should also check out ASOS' dress selection. There are plenty of maxi dresses that will be so on-trend next season.
ASOS Design Petite Ultimate T-shirt Maxi Dress (Sale price $23.20, down from $29)
ASOS Design Oversized Roll Neck Sweater (Sale price $40.80, down from $51)
Miss Selfridge Button Through Frill Sleeve Top In White (Sale price $28, down from $35)
ASOS Design Denim Jacket With Fleece Collar In Midwash Blue (Sale price $60.80, down from $76)
Missguided Wrath Straight Leg Jean (Sale price $32, down from $40)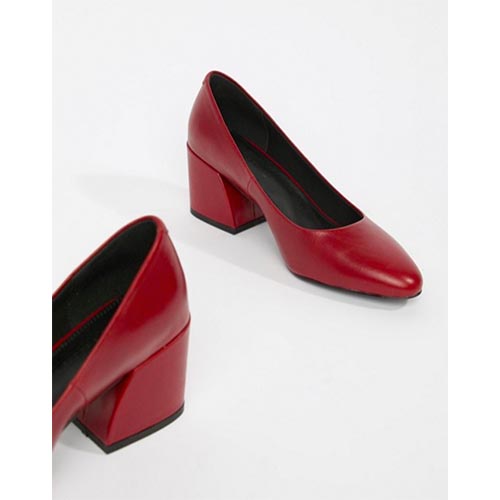 ASOS Design Sahara Red Leather Mid Heels (Sale price $63.20, down from $79)
SheFinds receives commissions for purchases made through the links in this post.