Balenciaga is well-loved for creating the ultimate cool-girl sneakers. Next to those sock versions, everyone instantly became obsessed with the brand's Triple S sneaker. Sadly, the multicolored, distressed kicks quickly sold out within months of being on the market and have yet to return to shelves.
Balenciaga Women's Triple S Sneakers ($850)
While we were partially thankful we wouldn't have the chance to impulse buy them for a whopping $850, we were still a little bummed they wouldn't make it into our closets – that is until we found these fabulous dupes that look just as great as (but cost much less than) the real things. Below, discover our favorite lust-worthy lookalikes. We dare you to make it through the list without pulling out your wallet.
FILA Trailblazer Suede Sneaker ($69.99, originally $90)
These chunky Filas are a great versatile option similar to the Balenciagas but without all the flash. Available in three rich colors, the shoes offer the sturdiness of a hiking boot with the style of a street shoe. They're currently on sale at Urban Outfitters, but you'll want to get yours ASAP because sizes are already going fast.
ADIDAS Originals By Alexander Wang Hike Suede & Leather Sneaker ($230)
In collaboration with renowned designer Alexander Wang, these Adidas kicks feature sporty constructions as well as the brand's iconic side stripes. We're obsessed with the neutral color-blocking and ridged platform, which looks like it provides great traction!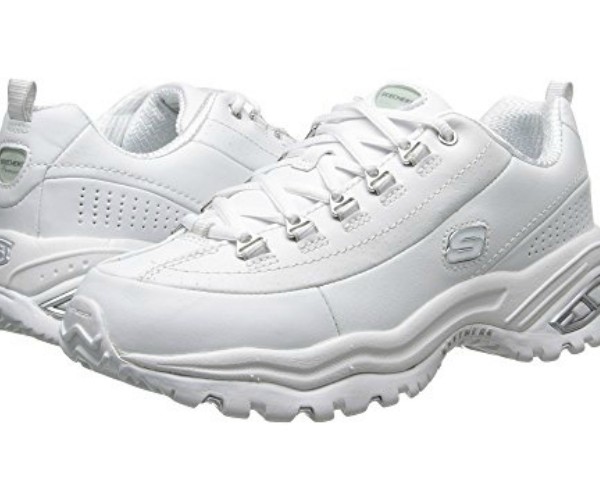 SKECHERS Premiums ($39.99)
Skechers has almost always been in on the "ugly sneaker" trend, even long before its high-end counterparts. These all white versions from the brand really fit the bill – not to mention they come in at less than $50. While not quite as cheap as those coveted Zara Multi-Piece Sneakers that looked almost identical to the Triple S, these chunky kicks are still just as chic, and quite affordable, too.
MM6 Maison Margiela Thick-Sole Sneakers ($420)
These Maison Margiela sneakers feature a supremely elevated platform that gives the Triple S silhouette a run for its money. The Paris-based brand takes a masculine approach to women's urban wears, and we're totally loving it. Apparently, so is everybody else, because only select sizes remain. If you're lucky enough to get a pair, try wearing them with frayed jeans and an oversized puffer for a flawless daytime look.
Stella McCartney Runway Leo Lace-Up Sneaker ($665)
If you're willing to splurge on your pick to get the closest look to the Triple S, these Stella McCartney versions are probably your best bet. Featuring complimenting earth tones and funky patterns, they're equally as flamboyant as their Balenciaga sisters (in the best way, of course).
For even more amazing designer dupes that will make your wallet sing, check out 8 Gucci Fashion Dupes That Look Like The Real Deal and 9 Fenty x Puma Dupes You'll Love Just As Much As The Originals.