Tired of being let down by your eye cream? Then, it's definitely time to reconsider your go-to formula. If you suffer from dark circles and puffiness, dermatologists say that you should invest in an eye cream that contains brightening ingredients to reduce the appearance of dark circles and restore radiance to the under-eyes. Need help finding the best brightening eye cream for dark circles? Amazon shoppers have given Mario Badescu's Ceramide Herbal Eye Cream their seal of approval. It contains some of the most important ingredients in eye creams and some say it makes dark circles vanish for GOOD!
What To Know About The Best Brightening Eye Cream For Dark Circles
TRY IT: Mario Badescu Ceramide Herbal Eye Cream ($18)
What It Does:
-Reduces the look of dry, tired eyes.
-Smooths out fine lines and wrinkles to keep the delicate eye area looking moist and youthful.
-Brightens under-eyes using antioxidant-rich ingredients like vitamin C.
-Replenishes and restores radiance with eyebright and rosehip oil-infused formula.
Shutterstock
How The Important Ingredients In Eye Cream Work
Ceramides
Restores moisture and helps strengthen skin's natural moisture barrier.
Euphrasia (Eyebright)
Gives the eye area a brightening boost of antioxidants.
Rosehip Oil
Improves moisture levels, promotes brightness, and provides an antioxidant vitamin C boost.
Hyaluronic Acid
Binds water to the skin to help retain skin's natural hydration levels and prevent moisture levels.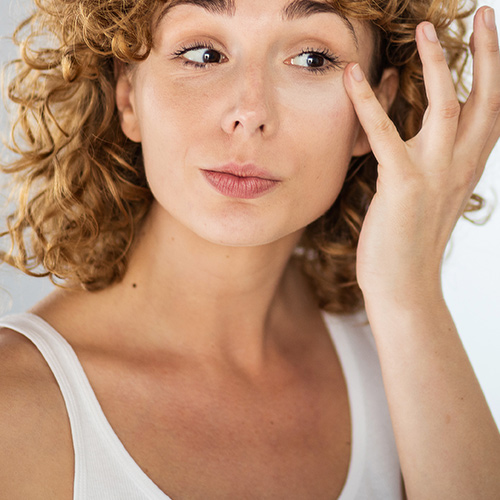 Shutterstock
Mario Badescu Ceramide Herbal Eye Cream Reviews
"I have been using this eye cream for about 4 months, I can see a difference in the fine lines around my eyes, I like that it is not oily and it absorbs in the skin leaving it nice and hydrated without the greasy feeling, I use it in the evenings most of the times, because I always forget to apply it with enough time in advance if I decide to wear make up, and I find that it does affect a little when I apply under eye concealer and don't wait long enough. I have tried many eye creams and I don't remember which brand it was that it was nice but it gave me like a rash, it looked like little white dots, I read somewhere that it was due to 'too much moisture.'" - Schneider Household
"Love the soft eye cream. I've been using it for years Love the soft eye cream. I've been using it for years. I truly believe that it's saved my eyes from does long New York City nights. After doing my normal skin care regimen I puts a nice layer under and around my eyes every night. ( no matter what time I get home!" - Jamie Lemke
"I love this cream. It is not full of chemicals. It is thick and creamy and I just apply a very small dot under my eyes and love the feel of it. This tiny container will last a long time because I use so little daily. I believe this product is comparable to some of the very high priced eye creams out there." - Lorna
SheFinds receives commissions for purchases made through the links in this post.