There are a lot of products out there that promise to lift the skin and banish lines for good, but none of them will work if your skin isn't properly hydrated. In fact, dermatologists say that the dryer your skin is, the more prominent wrinkles appear. "Dry skin results in more pronounced fine lines whereas hydrated skin appears plump and healthy," dermatologist Dr. Whitney Bowe, Medical Director of Integrative Dermatology, Aesthetics & Wellness at Advanced Dermatology, P.C., says, which is why experts recommend investing in a quality moisturizer to help combat wrinkles and promote healthier skin. Need help finding the best cheap moisturizer for wrinkles? Dr. Bowe says that it's best to keep your skin extra hydrated at night, which is why skincare experts give CeraVe's PM Facial Moisturizing Lotion two thumbs up!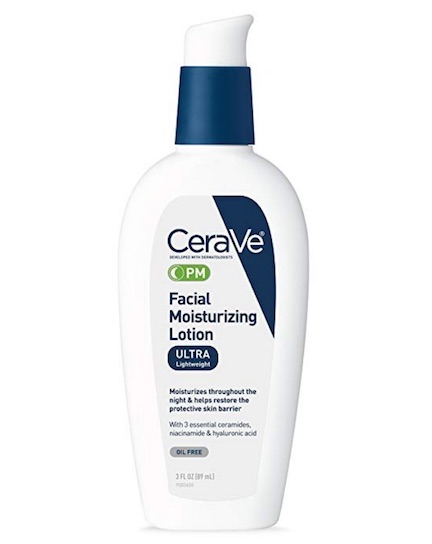 CeraVe Facial Moisturizing Lotion PM ($14.85)
Shutterstock
Ceramide Skincare Benefits
The PM Facial Moisturizing Lotion gets its hydrating benefits from its ceramide-rich formula, which Dr. Elizabeth Tanzi says work hard to lock moisture into the skin and prevent dryness.
"Ceramides help to maintain moisture levels in the skin without being too heavy or greasy," she tells TheFashionSpot.com. "CeraVe's facial moisturizer is great because it has ceramides that are found in much more expensive products."
Shutterstock
What Else You Need To Know About The Cheap Moisturizer For Wrinkles
Other Key Benefits Of Using CeraVe's PM Facial Moisturizing Lotion:
-Moisturizes throughout the night and help's restore the skin's protective barrier.
-Uses 3 essential ceramides, niacinamide, and hyaluronic acid to deliver lasting hydration.
-Ideal for normal to dry skin. Areas of concern is acne prone skin care, dry skin.
Promising Reviews from Amazon Shoppers:
"Usually, with skin care products, you get what you pay for and having used products that cost around $100+ per oz. for the past few years, my standards are very high. Plus I've been having some bad luck with finding a cheap but adequate replacement moisturizer. As such I didn't exactly have high hopes for something priced so cheap.
Going by feel alone, this is an acceptable lightweight moisturizer." - Hendo
"You absolutely cannot go wrong with this PM moisturizer. I have combination/dry, sensitive skin. I have spent fortunes on expensive night creams to learn that you do not need to spend a fortune to have the same, if not better, benefits and results for far less money. I even use this during the day with my sunscreen. Love this product. Just to be clear, this is not a thin lotion - one or two pumps softens the skin perfectly until morning." JHL
"This is the holy grail. This is THE STUFF. I'm in my late 20's and I was diagnosed with "pre-rosacea" - a mild redness to my cheeks and jawline, but none of the other symptoms such as acne. My skin looked and felt chronically dry to the point of itching no matter what I used... You know how when you first wake up your skin is clear and beautiful and ohmygod I-am-having-the-best-skin day ever, til you actually stand up and start moving around and then BAM it's like you ran hot water on your face except it never goes away? This product actually somehow maintains that morning skin for me, all the time. Additionally the texture has improved and it finally feels hydrated. So yeah, I recommend this product." - E.
SheFinds receives commissions for purchases made through the links in this post.