We've already seen an influx of new, trendy skincare ingredients popping up in product line-ups this year, but none have the same staying power as retinol. This powerful anti-aging ingredient comes highly-recommended by dermatologists far and wide for its ability to promote cell turnover and reduce the visible signs of aging. This is especially true when used at nighttime. "I don't know anyone over age 25 who could not benefit from a nightly retinol product," says Brooke Jackson, MD, a dermatologist and associate professor of dermatology at UNC at Chapel Hill. Thinking about hopping on the retinol train but don't know where to start? Keep scrolling to find the best drugstore retinol moisturizers that have the best reviews and reputations:
Shop The Best Drugstore Retinol Moisturizers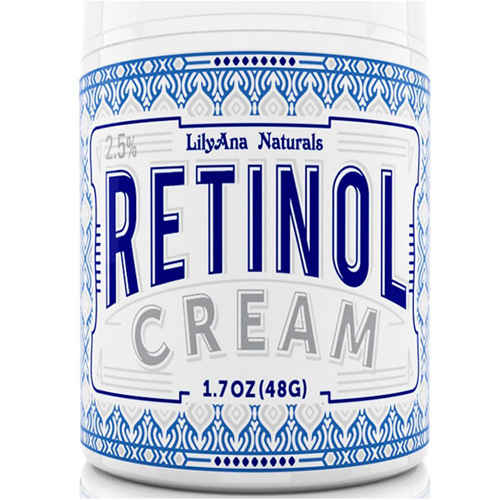 1. LilyAna Naturals
SHOP NOW: LilyAna Naturals Retinol Cream Moisturizer ($19.99)
Key Benefits:
-Potent formula visible changes with fine lines and wrinkles without dryness or irritation.
-Improves tone and texture by fading sun damage, spots, scars, and more.
-Features anti-aging ingredients like Hyaluronic Acid, Vitamin E, Green Tea, Shae Butter, and Jojoba Oil.
Promising Review:
"I have very deep wrinkles (I am 70 years old) and bought this after having read the rave reviews. Put me in the 5-star category for liking this. I use it day and night as directed and I think that after having used it for 3 weeks I can truly see the results. I looked at myself in the mirror the other day and honestly thought that I look "softer" than I have in a while. Because it is a small company the owners are anxious for you to post results. I didn't publish them immediately but am here to say that I will reorder this and use it until the day I don't want to put on makeup anymore." - Mayors Wife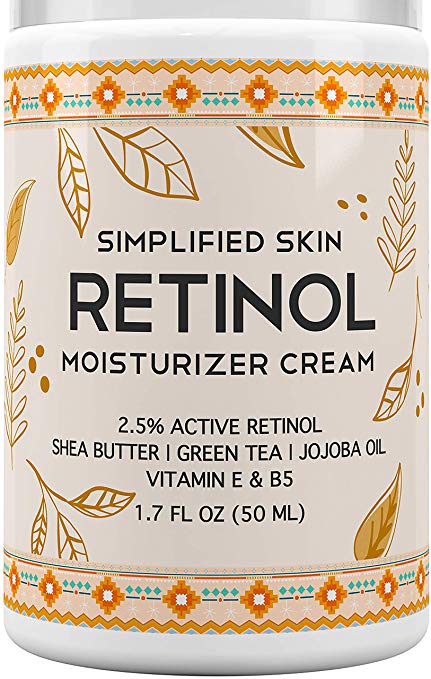 2. Simplified Skin
SHOP NOW: Simplified Skin Retinol Moisturizer Cream ($15.95)
Key Benefits:
-Formula contain 2.5% active Retinol as well as bio-active ingredients like Vitamin E, Vitamin B5, Hyaluronic Acid, Shea Butter, Green Tea, and Jojoba oil.
-Naturally moisturizes, soothes, heals and regenerates the skin.
-Helps to improve uneven skin tone and texture by reducing fine lines and mitigating spots, wrinkles, and sun damage.
Promising Review:
"I must admit, I doubted this new product would be much different from every other product I have tried before, but I really like this Retinol cream. From the feel and results to the packaging, it is all good. I do not have super deep wrinkles, but lots of little lines have become more noticeable around my eyes. This cream makes them far less obvious. My skin seems more glowing and less dry. I will surely be buying it again." - Mihir Raj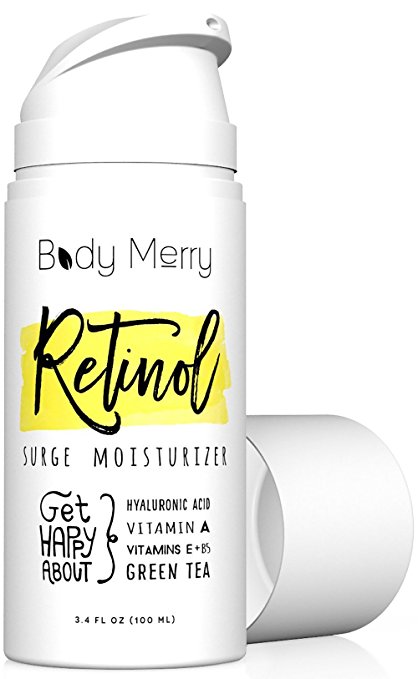 3. Body Merry
SHOP NOW: Body Merry Retinol Surge Moisturizer ($21.84)
Key Benefits:
-Combats all signs of aging including wrinkles, fine lines, uneven skin tone, and spots to deliver soft, healthy, glowing skin.
-Features rich, moisturizing ingredients like Green Tea, Organic Jojoba Oil, and Aloe.
Promising Reviews:
"At 64 I noticed that my neck was getting very thin and wrinkly. Within 2 weeks of using this, my skin became thicker and firmer. I have used it now 6 months and the wrinkles around my eyes are gone and although my neck doesn't, look like when I was 20, I am very happy with the way it looks." - Karen Ballman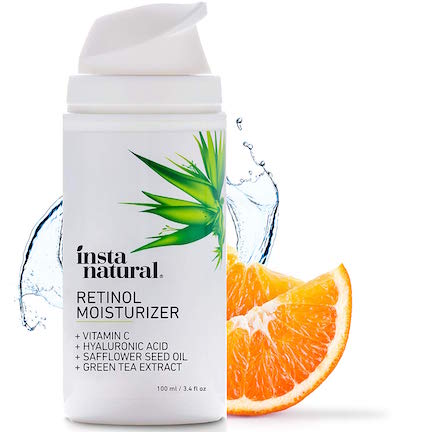 4. Insta Natural
SHOP NOW: Insta Natural Retinol Moisturizer ($18.97)
Key Benefits:
-Reduces the appearance of fines lines, wrinkles, discoloration, hyperpigmentation.
-Deeply hydrates the face and neck while plumping the skin for more radiant skin.
-Includes Vitamin C, Hyaluronic Acid, Green Tea Extract, and Safflower Seed Oil.
Promising Review:
"After a friend gave me the Insta Natural Vitamin C Facial Cleanser, which transformed my skin! I searched for other products from Insta natural to compliment the face wash. I am so pleased that I did. The moisturizer does not clog my pores, leaves my skin soft and smooth. I've noticed the spots on my cheeks and chin have lightened. Skin tone and elasticity have improved. I've had many compliments on how radiant my skin looks. And Being a 46 year old with sensitive skin and red hair, my skin has taken a hit over the years and This product not only feels good, it's improved the health of my skin. I recommend giving it a try." - Stephanie Moore MacKinnon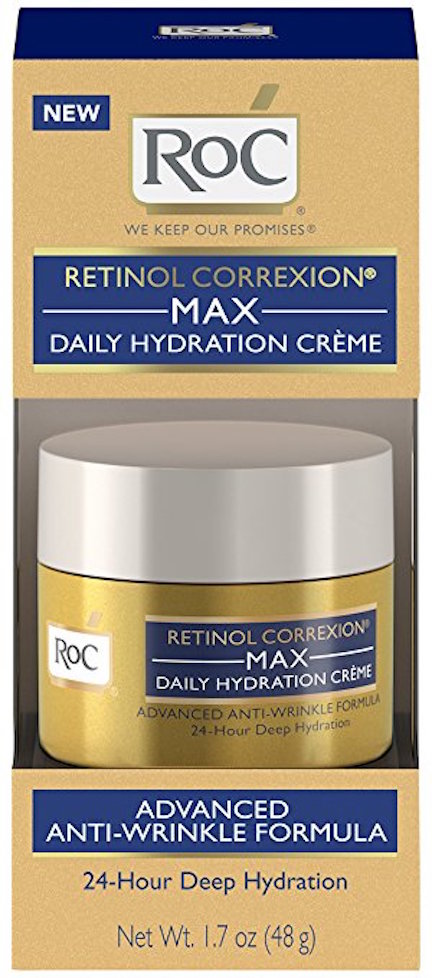 5. RoC
SHOP NOW: RoC Retinol Correxion Max Daily Hydration Crème ($18.98)
Key Benefits:
-Clinically proven to visibly reduce the look of wrinkles in one week and will gradually reduce the signs of dark spots and deep wrinkles with continued use over 8 weeks.
Promising Review:
"I noticed a difference in the fine lines on my face within a few days!" - Debbie K.

6. Radha Beauty
SHOP NOW: Radha Beauty Miracle Retinol Moisturizer ($18.95)
Key Benefits:
-Contains 2.5% active Retinol, Hyaluronic Acid, Vitamin E, and Green Tea.
-Reduce the appearance of wrinkles, acne, and brightens skin tone.
-Supports natural collagen production and helps treat hyper-pigmentation.
Promising Review:
"I have used this cream twice a day for four weeks now. This cream is NOT greasy at all. The difference having used this cream IS AMAZING! I wish I had taken "before" pictures because the change is NOTICEABLE! I had "crows feet" from smiling: they are GONE! They really stood out before, but they are GONE! I had much deeper wrinkles across my forehead, fourteen, in fact, they are so close to being gone that you really don't notice them (I do because I'm critical of my face). Another week and they'll be gone." - Marie M. Spoth
SheFinds receives commissions for purchases made through the links in this post.