There's nothing more exciting than being able to shed your layers of clothes while the weather begins to heat up. Unfortunately, we have to get through the in-between months of April and May to get there. Even only two weeks into April, it's proven to be one of the coldest Aprils we've had in the past few years. When dressing for the in-between, the way to outsmart this weather is to layer. While everyone knows what layering is, it seems few know actually how to do it. The key to layering like a street style star is to know what the best layering tees are. The best part? We found the ultimate lightweight layering t-shirt in heather gray for so cheap.
BP Side Slit Tee ($11.40 down from $19)
The key to layering lies within what pieces you're layering. When you're looking for the perfect layering tee to go underneath a sweater or jacket, length is a key factor. The layering top should be thin and longer in length so that it peekaboos out from under the sweater or jacket. This layering tee from Nordstrom is not only extremely lightweight, but it's under $15 which makes it a steal. I've personally worn the black/white striped tee underneath a chunky knit as well as my leather jacket and found it to be extremely comfortable and easy to throw on. Want it in a different color? It's also available in other colors as well as stripes for under $20. It also has over 1700 positive reviews at Nordstrom if you don't believe me.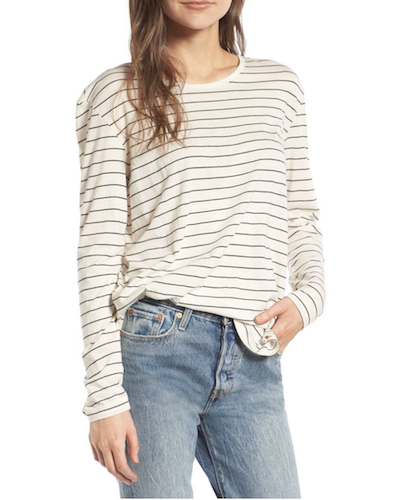 Here are some quick rules of thumb when it comes to looking for the best layering tees:
1. Know what pieces you're going to be layering
2. Pay attention to the necklines of the layering pieces
3. Make sure your layering tee is made of thin material
4. Use graphic tees for individuality
5. Mix and match textures and colors
However, layering isn't particular to just jackets and sweaters. If you're looking to try a t-shirt under a maxi dress, you need to choose a form-fitting top so you don't get unwanted frumpy rolls underneath the dress. You're also going to want to balance out the length of the maxi dress with a short sleeved layering tee in the spring. Also, pay particular attention to the necklines of your pieces. If you have a deep-v maxi dress or a low cut neckline, try a turtleneck, scope neck or crew neck tee. 
Project Social T Mock Neck Ribbed Tee ($32)
J. Crew Perfect Fit T-Shirt ($29.50)
If you really want to look like a street style star, take note from a layering expert. Ellyn Berghoff, experienced freelance stylist, and assistant to Tabitha Simmons said, "My favorite way to layer tees is by throwing a thin long sleeve under a short sleeve tee or hoodie. I like to use one that's a different color than the piece I have layered on top. The contrast combination of color and length gives your outfit a subtle pop of depth and individuality!"
Splendid Long Sleeve Crewneck Tee ($40.50 down from $54)
Try playing with vintage, logo or graphic tees for an extra casual look. The same rules apply to layering a short sleeved tee under a tank top as they do under a dress. When layering a t-shirt under a tank top, choose a basic cotton tee that's particular to your comfort level. Make sure that your satin tank top has a looser fit and your t-shirt isn't too boxy or you'll look wide and unkempt instead of sleek.
Metallica Tee ($21.60 down from $36)
Another really unique trick to make a layering statement is playing with a textured fabric for your tee that's different from what your overall outfit is. If you're wearing a short silk slip dress, layer it with a tissue-thin ribbed knit top for extra cool dimension. You also want to take into consideration the color play of your outfits. You can be as simple or bold as you'd like. If you have a burgundy silk dress, try pairing it with an orange tee. A good rule of thumb is to stick in the color wheel of your main clothing piece. If you're wearing cool colors, try to stay in that spectrum if you don't want it to be too bold and overwhelming.
BP. Ribbed Long Sleeve Tee ($25)
Remember, you want to look casual and effortless without looking messy. The best advice is to stop stressing about how to layer a t-shirt and start practicing. There's no wrong way to layer tees so just try it out and have fun with it!
More on SheFinds:
-These Are By Far The BEST Cropped Jeans I've Ever Owned
-We Found The 5 Best Cream Eyeshadows To Give You Crease-Free Lids All Day Long
-The Perfect Pocket Tee Is On Sale For Only $15
SheFinds receives commissions for purchases made through the links in this post.