Thinking about trying a tinted moisturizer? Trust us, your skin will love it. Tinted moisturizers are formulated to deliver hydration to the skin as well as other nourishing ingredients like emollients, sunscreen, and more. They also offer the perfect natural tint, creating a flawless and ageless complexion. If you suffer from oily or acne-prone skin, dermatologists say it's ideal to opt for an oil-free tinted moisturizer to prevent any excess oil from clogging the pores and adding any unwanted shine. When it comes to finding the best oil-free tinted moisturizer, there's one that always comes to mind–it's Laura Mercier's Tinted Moisturizer Broad Spectrum SPF 20 – Oil Free. Not only does it provide the perfect coverage and an antioxidant-rich formula, but it's also the best oil-free tinted moisturizer with SPF, too.
Keep scrolling to learn more about this best-selling oil-free tinted moisturizer, read reviews, and see swatches:
Everything You Need To Know About The Best Oil-Free Tinted Moisturizer With SPF
TRY IT: Laura Mercier Tinted Moisturizer Broad Spectrum SPF 20 - Oil Free ($46)
Product At A Glance:
-Offers the perfect blend of skincare and makeup to control oil-breakthrough and create a healthy, natural glow.
-Formulated with prevent dryness, soften and ease fine lines, and protect the skin from the most aggressive effects of the environment using an antioxidant complex of vitamins C and E.
-Its long-wearing color stays true and wears evenly in a natural, semi-matte finish.
-Provides ideal protection from the sun's harmful, damaging rays with broad spectrum SPF 20 UVB/UVA sunscreen.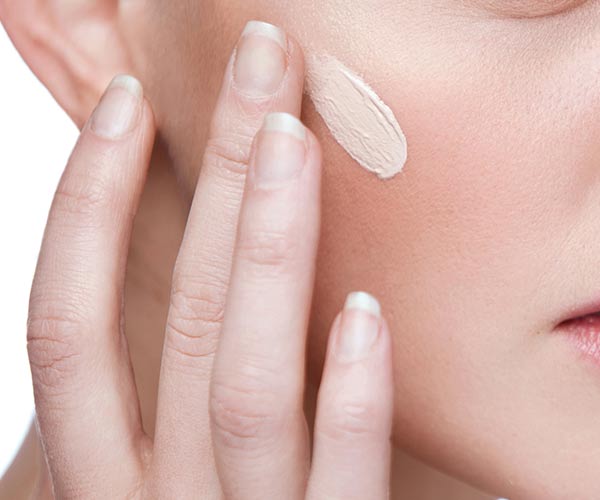 Laura Mercier Tinted Moisturizer Oil-Free Reviews
"I am enjoying this foundation. I usually don't wear foundation everyday because I find it to be too heavy, but this foundation is very light and I've been wearing it daily for a week straight. I seal it in with a bronzer, but could probably do something a little heavier. The color matching is excellent as well being that I'm African-American and color matching can be a little difficult at times." - Kfair
"I have been using Laura Mercier's Tinted Moisturizer for years. I prefer it over makeup because it's the closest match to my skin color I've ever had. It evens out skin tone and does not settle into wrinkles and it has a perfectly natural look to it. If it's a bad skin day, you can add an extra layer and it makes a difference, but is still undetectable. This is one of the few products I use up time after time, after time after..... I refuse to leave the house without it!" - Bienangele
"Let me begin by saying I have never written a review for anything. I've wanted to in the past when I've had exceptionally poor service, etc., but I love this product so much I feel I need to echo some of the glowing reviews of it. I have not used a tinted moisturizer before. I have VERY fair skin with few blemishes, but the blemishes, scars, and new found wrinkles I do have stand out because of my pale skin. I bought this moisturizer about two months ago and wow! It evens out everything without hiding some of my favorite features ( I have really light freckles across the bridge of my nose). I also have noticed I do not need to use as much concealer when using this stuff. I was afraid it was going to clog my pores and to be fair, it doesn't do any more clogging that my other make-up. I never thought I'd say this about make-up, but I am in love with Laura Mercier Oil-Free Tinted Moisturizer. Go get some for yourself!" - emilyswm
Laura Mercier Tinted Moisturizer Oil-Free Swatches
This oil-free tinted moisturizer is available in 13 diverse shades and can be matched to any unique skin tone and undertone. The formula is non-comedogenic and dermatologist- and allergy-tested to minimize the risk of irritation, making it perfect for all skin types, including sensitive ones.
"I created this product because I wanted to give skin a fresh, healthy, no-makeup look with a soft hint of color that evens and enhances without hiding the skin," brand founder Laura Mercier says of the Tinted Moisturizer Broad Spectrum SPF 20 - Oil Free.

SheFinds receives commissions for purchases made through the links in this post.