We know what you're thinking: "What is a naked sweater?" That is what the internet is calling this sheer sweater from Calvin Klein's Fall 2017/ Winter 2018 collection. While this sweater may be considered high fashion to some, most of us are having a difficult time wrapping our heads around it. Click the next slide to see the sweater in all of its glory!
[Photos: Calvin Klein]
The Varsity Sleeve Stocking Top, as it's formally called, combines two contrasting textures and fabrics: sheer mesh for and wool. The sleeves look just like your average sweater, but it's the sheer body that has everybody talking!
Not only is this sweater sheer, it's also got quite a hefty price tag. It's being sold for $1,150, but at least it comes in two fashionable colors, right?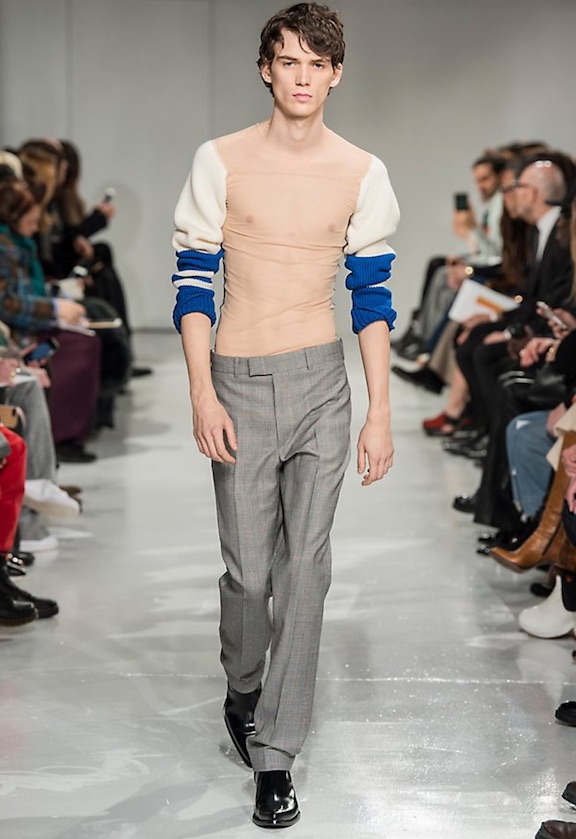 Don't worry, there's a naked sweater for the guys, too! The sweater made it's big debut at Calvin Klein's highly anticipated New York Fashion Week show on Sept. 13 and we're sure it turned some heads and dropped some jaws. Ever since NYFW, the internet has not been able to get this sweater out of their minds -- and we can definitely see why.
While it's hard to picture yourself wearing this innovative garment in your everyday life, it's not totally out of right field. Many celebs and fashion influencers have been embracing the sheer trend recently, so it was only a matter of time for the naked sweater to hit the market. Plus, fall is all about layering and shifting your wardrobe from summer to fall, and what better transitional article of clothing is there than a half sheer, half wool sweater?
If you think you're daring enough to rock Calvin Klein's sheer sweater, you can get it at CalvinKlein.us