Good old Target, your one stop shop for absolutely everything you need–and don't need. It's notoriously known that no one walks into Target to strictly buy only the items on their list. It's not possible. You walk into Target and let Target tell you what to get, not the other way around.
Last month might have been the official first day of spring, but our editors are already thinking about summer and all of the exciting trends it will bring with it. Let's be real, it's not summer without a pair of chic sandals and we've already had our eyes on a few cute styles from Target. Every shopper knows that Target sandals are always on-trend and that the Bullseye's offerings are reasonably priced, making it our favorite stop when it's time to shop for sandals. 
The Target Sandals Our Editors Are Obsessed With
We're not the only ones that are loving Target's sandals selection; there are already a handful of influencers and bloggers that have been rocking their spring and summer footwear on Instagram. Keep scrolling to find out which Target sandals are going to be everywhere this summer and how our style expert Vanessa Valiente, founder of V-Style, will be styling them.
1. Target Espadrilles Sandals
Our editors are expecting to see a lot of espadrilles this summer, especially when it comes to espadrilles flatform wedges. "The biggest sandal trend this summer is a general bulkiness," Valiente explains. "Whether it be buckles, a platform, or Teva-looking things, there is a voluminous flare happening south of the knees. To ensure these chunky sandals look fresh and not monstrous or touristy, you're going to need to balance the weight north of the knees."
Valiente suggests opting for cut-off denim shorts and a breezy, collared shirt tucked in for a relaxed-yet-chic look. She says that espadrilles sandals will also pair well with flowy dresses and cropped flared jeans as well!
2. Target Block Heel Sandals
Comfortable sandals are a must-have for every fashionista. That's why we're so thankful for sandals with block heels. They provide the perfect amount of height and elevate any look without compromising comfort or wearability. "Block heels are the universal shoe for a put-together look," Valiente notes. 
You can't go wrong with a good block heel sandal, especially when it comes to Target's extensive collection. Valiente loves block heels for their versatility as well, noting that they can be worn with almost everything in your closet. "You really can't go wrong with a low to mid-height block heel. They are great for work and dressing up, and are far more comfortable and effortless than a stiletto," she says.
3. Target Slide Sandals 
Slides are the new flops! Fashionistas have been ditching the traditional summer shoe and opting for edgier pool slides instead. Slides used to be exclusively worn poolside, but now designers are branching out and creating slides that can be worn for any occasion. "It's hard to go wrong with slides," Valiente says. "Slides are wonderful with shorts, casual dresses, maxi dresses, midi dresses, jeans, and any other casual garment."
4. Target Crossband Sandals 
Crossband sandals combine the comfort of sandals with the elegance of flats to deliver a stylish shoe moment. You can wear these sandals to the office and still maintain your professional look, or throw them on with your favorite sundress for a day of exploring.
5. Target Mule Sandals 
Yes, you can expect to see fashionistas rocking more mules this summer. But, these shoes are so cute that we don't mind. Opting for a pair of mules is an easy and stylish way to dress up your favorite summertime outfits; they add the instant elegance of a heel without committing to a fancy shoe.
"Mule sandals look awesome with the cropped wide leg trend. The volume at the foot balances out the volume in the pant," Valiente explains. "I find they get caught under the foot with long pants, which is why they thrive with the crop. They can also work with a flared midi dress. Maxi dresses, like long pants, can get caught between the foot and the shoe."
Shop the Target sandals below: 
A New Day™ Rianne Espadrille Ankle Strap Sandals ($27.99)
Add chic, effortless style to any warm-weather outfit with the Rianne Espadrille Ankle-Strap Sandals from A New Day™. The faux-leather straps offer a sophisticated touch to the casual style of the woven espadrille sole, letting your pair these sandals with a variety of outfits.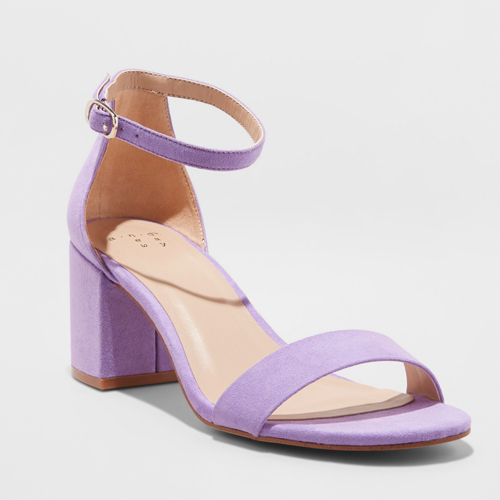 A New Day™ Michaela Mid Block Heel Pump Sandals ($24.99)
Instantly add a pop of color to any outfit with the Michaela Pumps from A New Day™. These quarter-strap heeled sandals bring a classic look with the small top strap, while the block heel brings a chic update. Just pair them with a midi skirt and boatneck top for brunch out with friends, or slip on jeans and a sweater for a date night out.
Shade & Shore™ Kate Scalloped Slide Sandals ($12.99)
Warm-weather vibes are always within reach when you have the Kate Scalloped Slide Sandals from Shade & Shore™ in your closet. These faux-leather sandals feature a neutral brown footbed and a wide band on the front, finished off with scalloped details along the top and bottom. Slip on these sandals, grab your beach bag and enjoy a warm day in the sun.
Universal Thread™ Lois Crossband Sandals ($24.99)
Welcome warm-weather days in the Lois Crossband Sandals from Universal Thread™. Made with faux-leather construction, these flat sandals are accented by wide, crisscross bands at the front and are finished off with a fabric section that wraps around the back of the heel. Slip these on for a trip to the beach or the neighborhood barbecue down the block.
Who What Wear™ Danielle Vinyl Heeled Mules ($34.99)
Elevate your look with the Danielle Vinyl Heeled Mules from Who What Wear™. These chic slip-ons feature a chunky, modern heel and clear strap over the foot that offers a secure fit. Versatile to dress up or down for a variety of occasions, these open-toe mules are your newest go-to.
SheFinds receives commissions for purchases made through the links in this post.