According to Dr. Caroline Apovian, M.D., a weight-loss specialist at Boston University Medical Center, the two big reasons people tend to gain weight as they get older is due to loss of muscle mass and decreased activity. In fact, people experience a 5 to 10 percent loss of muscle mass each decade after age 50.
Don't worry, it's not the end of the world. By exercising daily and piling on the lean protein and cutting the simple carbs, you can get your figure back. If you are looking for healthy, delicious and easy to prepare meals, check out these 4 crock pot recipes that will help shring your waistline.
This healthy twist on a classic Mexican inspired chili does not have beans but is still full of flavor. It's packed full of lean protein, flavorful spices, and vegetables. The added corn tortilla gives it added texture and flavor—and, it's gluten-friendly.
You'll need:
Boneless, skinless chicken thighs
Olive oil or avocado oil
Ground cumin
Garlic
Onion
Bell pepper
Salsa verde
Sea salt and black pepper
Garlic powder
Green chiles
Chicken broth
Gluten-free tortillas (or corn tortillas)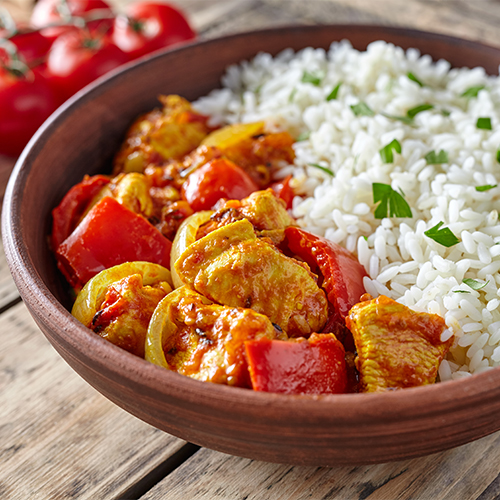 If you are craving Thai takeout, skip the extra calories and save money by making your own curry at home. This delicious coconut curry chicken features lean chicken breast, full-fat coconut milk, green curry paste, and a squeeze of lime. Serve over brown rice for a guilt-free meal.
You'll need:
Boneless, skinless chicken breast
Garlic
Full-fat coconut milk
Green curry paste
Garlic powder
Salt
Lime juice
Chili powder
Thai basil
Salt and pepper to taste
Green pepper
Red pepper
Red onion
Coconut oil
Brown rice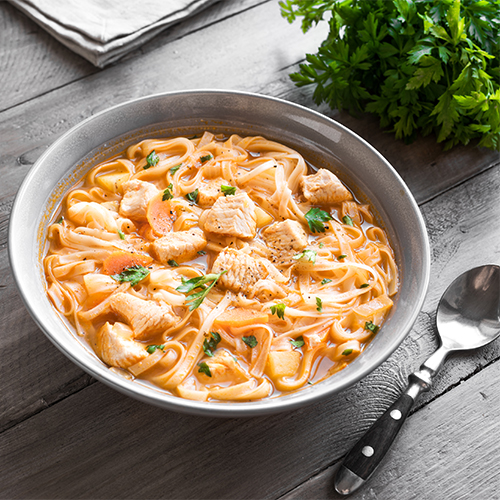 Perfect for any weekday dinner, this fresh take on turkey noodle soup features warming ginger with a hit of coconut. This soup is so versatile too. Switch up your veggies by using whatever you have on hand in place of the corn and peas.
You'll need:
Carrots, sliced
Water chestnuts, drained
Gingerroot
Parsley
Chili powder
Chicken stock
Coconut water
Lemon juice
Skinless turkey breast
Pepper
Salt
Canola oil
Frozen corn
Frozen peas
Rice noodles
Slow-Cooker Honey-Orange Chicken Drumsticks
Satisfy your Chinese takeout cravings with this easy to make meal. The drumsticks are doused in a honey-sweetened sauce and spiked with orange, ginger, and garlic. This one is sure to become a favorite.
You'll need:
Honey
Orange zest
Orange juice
Soy sauce
Garlic
Fresh ginger
Rice vinegar
Crushed red pepper
Chicken drumsticks
Cilantro
Toasted sesame seeds