If you're thinking about getting engaged in 2019, then it's time to start taking a serious look at engagement rings. This is not something you want to put off; you'll want to do your research to make sure that you're choosing the best ring that suits your future fiancé's style, represents your love, and will have a design that stands the test of time.
As always, the coming year will bring new and exciting ring trends. You can expect to find a lot of fancy-shaped center stones and two-tone metals when you start your hunt for the perfect ring–but those trends are just the beginning!
This may seem overwhelming at first, but you're sure to find a style you'll love. Take a look at these nine engagement ring styles that will be in for 2019.
1. Hexagonal
This modern, art-deco inspired shape offers an instant heirloom feel, say the experts at JamesAllen.com.
2. Bypass
"The Bypass ring become popular in the Victorian era and was usually given as an engagement ring because it symbolized two souls coming together as one," explains Lucas Horton, GIA Graduate Gemologist, Valeria Fine Jewelry. "They were also seen as less pagan and more refined extensions of the ouroboros and infinity symbols. Bypass rings have become popular today because they offer a great mix of minimalist and negative spacing that you don't get with traditional rings."
3. Yellow Gold
While rose gold has been taking center stage, the experts at Simon G. Jewelry anticipate yellow gold to make a much stronger appearance in engagement rings in 2019.
4. East West
What makes this ring setting special is how the stone sits; it's horizontally on the band, which is different compared to the traditional vertical placement. It is worn by the likes of Portia de Rossi, Catherine Zeta-Jones, and Kate Beckinsale. Ring: JamesAllen.com
5. Pear and Oval Shaped Diamonds
These romantic and round inspired brilliant cut diamonds are resurfacing as a popular trend both with celebrities and people around the country, according to the experts at Four Mine.
"While they are unique in their look, they are close in sparkle and feel to a traditional round diamond. This helps the engagement ring stand out. These shapes are also less expensive than the round and look larger within the same carat range," they explain.
6. Micro Pave Bands
"Most of our clients insist on the very thinnest micro-pave diamond band on their engagement ring and for their wedding band," says engagement ring expert Marisa Perry Atelier. "The ultra-thin diamond bands highlight the beauty and size of the center stone. It's also a younger and fresher look that they have really taken to."
7. Baguettes
Baguette diamonds will be the stone of choice for accents in 2019 engagement rings. Their rectangular shape is what sets them apart from classic diamond cuts, but they still add an element of elegance to the ring. Ring: Simon G. Jewelry
8. Floral Cluster

Perfect for spring-time proposals, cluster rings add an additional layer of shimmer and shine to their pre-set diamonds. Ring: JamesAllen.com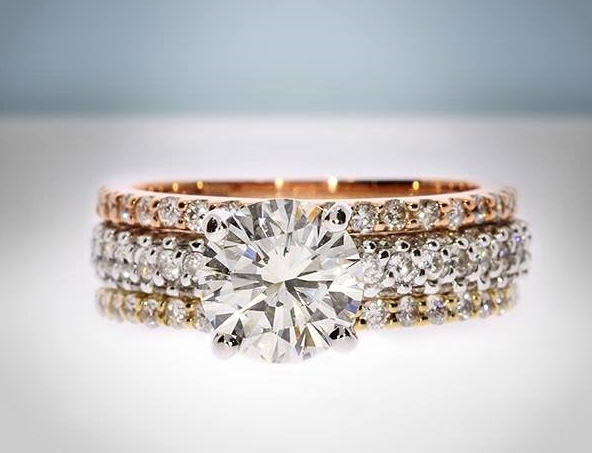 9. Two-Tone
These rings are gorgeous as they combine white gold with rose or yellow gold, creating a striking and romantic look. Woven, braided or stacked styles are popular for two-tone rings. This also enables the wearer to get a wedding band in the metal of their choice. Ring: Four Mine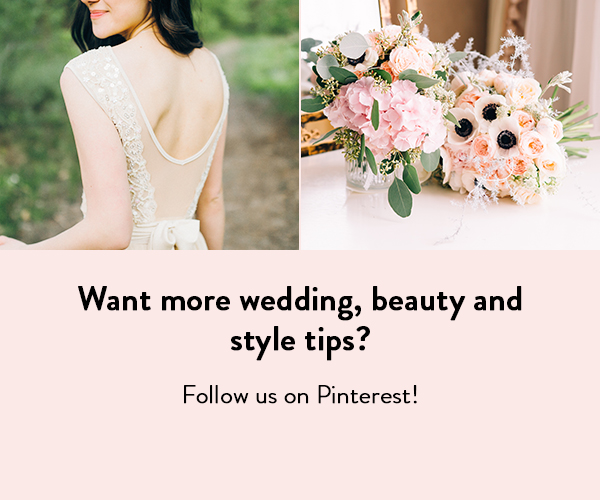 Want more wedding tips and advice? Follow SheFinds on Pinterest!
You'll also want to check out:
7 Wedding Color Combinations That Are Out For 2019
6 Mistakes Couples Make When Choosing Their Wedding Bands
15 Wedding Trends That Are In For 2019
Photos: James Allen, Valeria Fine Jewelry, Simon G. Jewelry, Four Mine, Marisa Perry Atelier