We spend most of our day looking at screens. Whether you're scrolling through Instagram on your phone or finishing up a presentation for work on your laptop, studies show that the blue light emitted from digital screens hinders our health and can result in everything from restless sleep to deteriorated eye health. Thankfully, brands like EyeBuyDirect are working hard to help protect our eyes from these damaging UV rays, starting with launching a line of blue-light-blocking lenses. The brand teamed up with the wellness experts at Chillhouse NYC to help everyone "Stay Chill in the Digital World" with new, trend-inspired lenses that prevent the harmful effects of digital blue light.
"Digital screens are major sources of blue light, specifically the kind of blue light our bodies use to regulate sleep. So, whenever we use our digital devices, especially late into the night, we're actually telling our brains to keep our bodies awake," said Caroline Dubreuil, Product Marketing Manager for EyeBuyDirect, who lists headaches, disorientation, loss of sleep, fatigue, and eye health issues as other symptoms of unprotected blue light exposure. "Research shows that wearing light-blocking glasses three to four hours before bedtime can lead to better and more restful sleep, which in turn keeps us healthy and productive."
Starting at $25, the collection uses EBDBLUE technology to block blue light and comes in 15 frames for men and women, each curated by Chillhouse's team to ensure that they were stylish and fashion-forward. "We selected frames that made us feel calm, cool and collected. Plus, they're super affordable, so everyone can enjoy the benefits of blue-light protection," Cyndi Ramirez-Fulton, Founder of Chillhouse, explained. The EBDBLUE frames also include scratch-resistant and anti-glare coatings and are available for prescription and non-prescription lenses.
SHOP NOW: EyeBuyDirect Nala Eyeglasses ($33) 
You can shop the full collection now on eyebuydirect.com and can even get the EBDBLUE lenses added to any pair of EyeBuyDirect lenses. Already have a pair of blue-light-blocking glasses? Keep scrolling to shop other products that help keep you protected from digital screens below:
bareMinerals Complexion Rescue Defense Radiant Protective Veil Broad Spectrum SPF 30 ($39)
bareMinerals Complexion Rescue Defense Radiant Protective Veil Broad Spectrum SPF 30 is formulated with sugar molecules to help block pollution particles and mineral SPF 30. It also leaves a pearlescent glow on the skin!
Smith & Cult CANCELLED Light Diffusing V-Concealer ($28)
This concealer not only instantly brightens and refreshes the under-eyes, but it also uses cocoa seed extract to keep this sensitive skin area protected from the damaging blue light emitted from electronics.
MAKE Beauty Moonlight Primer ($55)
Make Beauty's Moonlight Primer protects skin from the damaging effects of High Energy Visible (HEV) light emitted by electronic devices using marine algae and other skin-healthy ingredients.
PÜR Beauty Lit Mist Illuminating Setting Spray ($24)
Revitalize the look of dull, tired skin with Lit Mist, an illuminating setting spray that instantly hydrates the complexion for an effortless glow and helps protect against signs of aging caused by high energy visible blue light.
Supergoop! Superscreen Daily Moisturizer Broad Spectrum SPF 40 PA+++ ($38)
This moisturizer provides intense hydration and SPF 40 to protect your skin from UV rays, blue light, and pollution. Its whipped texture leaves skin looking naturally dewy and perfectly prepped for makeup.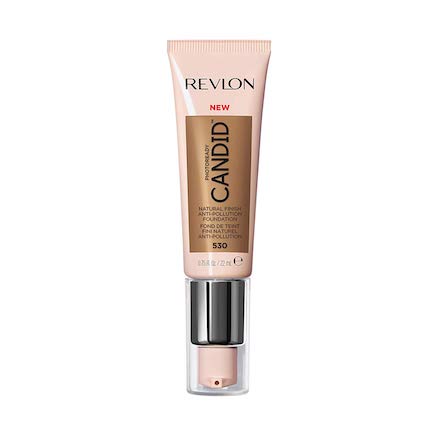 Revlon PhotoReady Candid Natural Finish Foundation ($4.49)
This antioxidant-rich foundation is made with anti-pollution, anti-blue light ingredients and offers buildable medium coverage while keeping skin moisturized all day long.
SheFinds receives commissions for purchases made through the links in this post.