Just because you're on a diet and trying to lose weight, doesn't mean you have to eat boring, bland meals every day. As long as you do your research and follow a well-thought-out meal plan, you can still shed pounds while enjoying yourself! Any easy way to make fat-burning meals is to use a slow cooker.
Crock pots are highly underrated if you ask us. These handy kitchen tools practically do all the work for you, all you have to do is add in the ingredients and let the machine do the cooking.
For anyone looking to lose belly fat, it's important to balance a healthy diet with regular exercise. An established fitness routine, combined with fat-burning meals, will help you gain muscle and lose fat quickly. Just try one of these slow cooking chicken recipes.
Fat-Burning Chicken Crock-pot Recipes
Shutterstock
1. Balsamic Chicken And Tomatoes
This balsamic chicken and tomatoes crockpot recipe has quick and easy to make when you're in a hurry. It requests boneless skinless chicken breasts, tomatoes, and a few seasonings.
Recipe: Family Food On The Table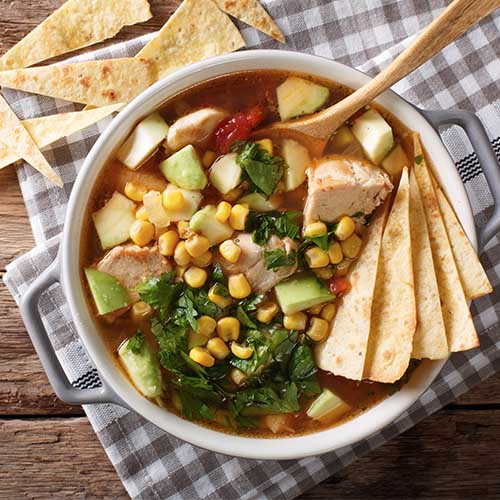 Shutterstock
2. Skinny Chicken Fajita Soup
This zesty, low-carb, low-fat fajita soup is a great option to make if you're trying to eat clean and get in a lot of protein. It's made with plenty of ingredients that you probably already have in your kitchen, too.
Nutritional info: 316 calories, 24 g protein
Recipe: A Spicy Perspective
Shutterstock
3. Chicken Enchilada Quinoa
Quinoa is a superfood that's high in protein. Combine that with some chicken and you have yourself a protein-packed dinner. This tasty recipe is quick and easy to make--just let your crockpot do all the work!
Nutritional Info: 233 calories, 25 g protein
Source: Bobbi's Kozy Kitchen
Shutterstock
4. Honey Garlic Chicken
Honey garlic chicken in a sweet and savory dinner that you can make in your crockpot. It's loaded with vitamins and minerals, in addition to being high in protein.
Nutritional info: 233 calories
Recipe: Feel Great In 8
Shutterstock
5. White Bean Chicken Chili
This slow cooker chicken chili is a healthier, high-protein version of a classic comfort food that you'll want to make over and over again this season. It's loaded with healthy ingredients likes chicken, chilies, white beans, and onions.
Nutritional info: 267 calories, 28 g protein
Recipe: Jessica Gavin