At the start of every season, Instagram is a major hub for new fashion trends. When you open the app, you hit the jackpot in terms of style inspiration. Right now, the summer's cutest bathing suit trends are everywhere–namely high-cut bikini bottoms. From style bloggers and influencers to brands' perfectly curated profiles, we all wish we could just shop for swimwear directly from our Instagram feed on a daily basis.
So many new bathing suit styles are emerging already for the summer, but everyone is dying to know which style will be the most popular. Our prediction, high-cut bathing suits will be everywhere. From poolside to beachside, these swimsuits are already a huge hit. The slightly high-waist, high-leg bottoms are very in for summer of 2018.
Hailey Baldwin rocking a high leg bathing suit.
Retro '80s Style Swimwear
The fan-base for the retro style '80s swimwear is growing rapidly with support from some of fashion's biggest celebrities and models. Notable A-listers include reality TV star Kim Kardashian, model Hailey Baldwin, and Victoria's Secret Angel Alessandra Ambrosio. But the women of Hollywood aren't the only ones hopping on the high-cut bathing suit trend–fashion bloggers are loving the style too.
Alessandra Ambrosio in high cut bikini bottoms.
If you're in the market for a new bathing suit for the summer, look no further than this hot new style. You're going to be spotting these all over the beach on your next tropical vacation so don't miss your chance to rock them too.
This '80s bikini bottom style is super flattering, even if you don't have the body of a Victoria's Secret model. The way that this high-waist bathing suit sits above your hip bones elongates your legs for a taller, leaner look. Considering even super curvy Kim Kardashian is a fan of this high-cut bathing suit style, it's safe to say the trend looks amazing on a variety of body types.
Kim Kardashian in a high-cut bathing suit.
Shop for this summer's trendiest high-cut, high-waist bikini bottoms below:
Pacsun LA Hearts High Cut Bikini Bottom ($22.95)
This pair of high cut bikini bottoms has an ultra high waist and leg cut. Your legs will look like they go on for days in this bathing suit.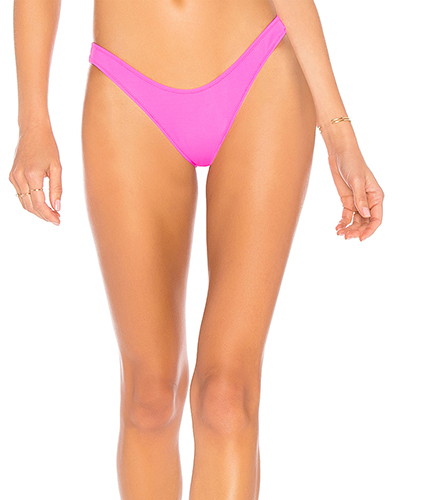 Kendall Kylie High Cut Bikini Bottom ($58)
Like we said, the Kardashian-Jenner family is a huge fan of this high-cut bathing suit style. The Kendall & Kylie clothing line even makes their own version of the swimsuit bottoms--in neon pink, of course!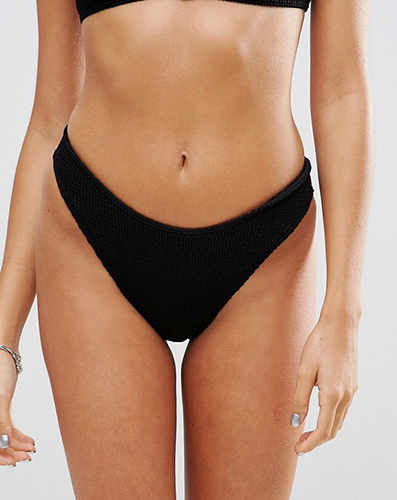 ASOS Mix and Match Crinkle High Leg Hipster Bikini Bottom ($19)
The beauty of these simple, yet showstopping high leg swimsuit bottoms is that they're very versatile. Embracing the trend doesn't mean you have to go out and buy an entirely new bathing suit ensemble. You can easily mix and match this retro-style bikini bottoms with one of the bikini tops you already own.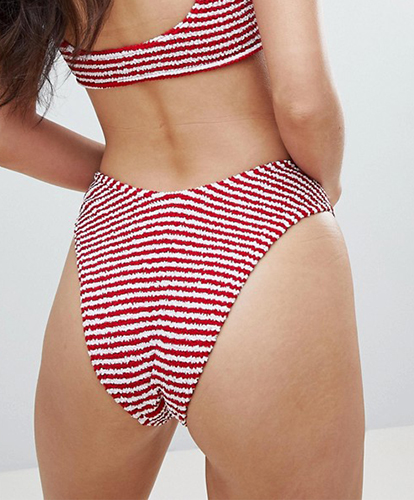 ASOS DESIGN Mix And Match Crinkle High Leg Hipster Bikini Bottom In Stripe ($19)
If you are looking to jump on board with this retro swimsuit trend in full force, then this pair of crinkle red and white striped bikini bottoms from ASOS is the perfect pair for you.
Forever 21 High Leg Bikini Bottoms ($12.90)
Plenty of brands have made their own version of the high leg bikini bottoms, including Forever 21. This pair of bright yellow bathing suit bottoms is under $15. What a steal! Plus, yellow is one of the trendiest colors for 2018.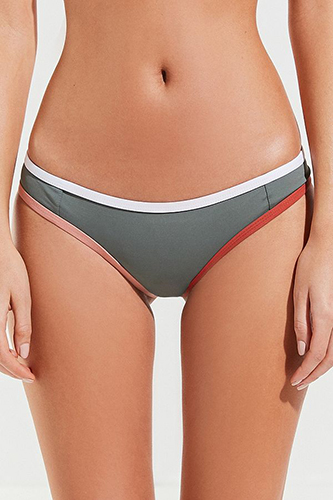 Urban Outfitters Tavik Jayden Mod Bikini Bottom ($64)
The high leg bikini bottom trend doesn't just come in plain, solid colors. You can get this bathing suit from Urban Outfitters that features three colors in it.
For more swimsuit trends on SHEfinds, check out:
--The Bizarre Bathing Suit Trend That Will Be Everywhere This Summer
--The Best Bathing Suits For Women With Big Boobs
--8 One Piece Plus Size Bathing Suits To Wear This Summer
SheFinds receives commissions for purchases made through the links in this post.