Often when people are trying to lose weight, they don't get enough nutrients out of their meals. Cutting calories and eating low-carbohydrates eventually catches up to us. Not only will eating a well-balanced meal make you feel better, but it can actually help accelerate your weight loss goals.
"The best way to satisfy your stomach and keep your energy levels in check is by eating meals that are high in lean protein and include foods that are rich in nutrients, vitamins, and minerals," says New York-based nutritionist Regina Fazzini. "These good-for-you foods will also help you stay full and focused, which will help you avoid unhealthy snacking and blood sugar spikes and drops during the day."
Ahead, try making one of these diet-friendly and tasty, high-protein slow cooker soups. We guarantee it will leave you feeling full and satisfied!
Dieting Recipes: High-Protein Slow Cooker Soups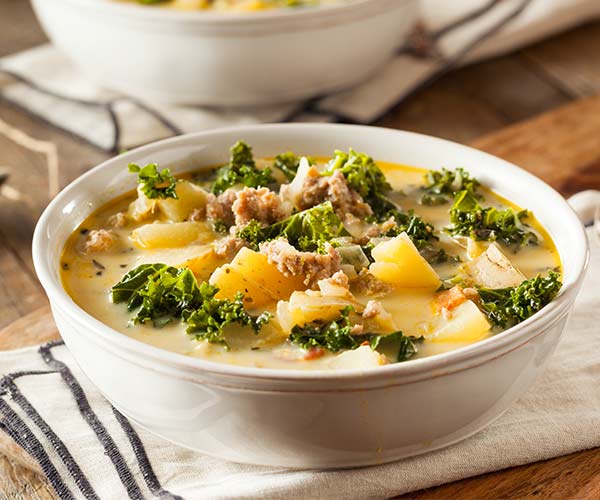 Shutterstock
1. Slow Cooker Sausage, Kale, And Sweet Potato Soup
This slow cooker soup is packed with vitamin A from the sweet potatoes and a high amount of protein from the ground turkey and kale. It only takes 15 minutes to prep and 30 minutes to cook in a slow cooker.
Nutritional Info: n/a
Recipe: Wholesomelicious
Shutterstock
2. Slow-Cooker Vegetable Soup
This vegetarian soup recipe is meat-free but is still packed with protein! It's low-calorie and loaded with fresh vegetables like kale, zucchini, and green beans, as well as protein-rich white beans.
Nutritional Info: 174 calories, 10 g protein
Recipe: Eating Well
Shutterstock
3. Slow Cooker Butternut Squash Soup
This quick and easy slow cooker recipe only requires 4 ingredients and takes only 10 minutes to prep. It's vegan-friendly and utilizes yummy butternut squash for protein and minerals instead of meat.
Nutritional Info: n/a
Recipe: Running On Real Food
Shutterstock
4. Slow Cooker Taco Soup
This taco soup has refried beans in its base for a boost of protein and flavor. It also has protein and iron-rich lean ground beef in it to up the nutritional value. Add in some corn, tomatoes, and green chilis to increase the flavor and make your taste buds happy.
Nutritional Info: 134 calories
Recipe: Slow Cooker Gourmet
Shutterstock
5. Slow Cooker White Bean & Ham Soup
This classic hearty soup is a healthy comfort food! It calls for protein-rich smoked ham, white beans, carrots, celery, garlic, and fresh herbs, making it loaded with nutrients.
Nutritional Info: n/a
Recipe: Five Heart Home