This post has been updated on 6/13/19 to reflect the live sale. 
It's official: H&M's Summer Sale is now live!
The Swedish retailer had confirmed to SheFinds last week that the epic annual event would go live online and in stores on June 13, 2019, and would be up to 50% off. And they did not disappoint!
To help you score big at this sale event before all the best items sell out, we've put together a survival guide with everything you need to know now. It's on!
What Is It
The H&M Summer Sale happens in June yearly and features a wide selection of men's, women's, home and kids' items for up to 50% off. The sale is not sitewide, but you can find *thousands* of items to choose from. There are 2,610 women's items–and that's just one category. So, yes—the hardest part is choosing!
Unlike past years, there is no extra sale-on-sale code. The sale prices are reflected on the product pages. But don't fret–H&M has already given that additional mark down that you would expect, you just don't have to enter a code to get it.
So, for example, this Off-the-shoulder Top we've been stalking was $14.99 earlier this week–and is now just $9 at the sale. Wa hoo!
Additionally, they usually offer a free code (such as last year's 0040) for free shipping on orders over $40. We don't see one on the site, but we've reached out to a rep to find out if there is one.
But that's not all—you also get an extra 20% off when you sign up for their newsletter. Stacks on stacks on stacks of deals!
$2, $3, $4 Deals
With any H&M sale, the deals every editor is obsessed with are the $4 ones. Usually you can find tops, sandals, dresses, shorts, men's collarless shirts and more under $5. In the past they've had great seasonal items at this price point, such as beach over-ups for $4, down from $9.99, shorts $4, down from $17.99, flip-flops, summer tanks and more.
And they've definitely got the $4 deals this year. In fact–they've got $1.99, $2.99 and $3.99 deals as well. Here are a few of the stand-out ones:
Georgette Blouse ($1.99, down from $14.99)
Jersey Dress ($3.99, down from $19.99)
V-neck Top ($3.99, down from $9.99)
Drawstring Blouse ($3.99, down from $24.99)
Editors' Pick:
Tops Under $10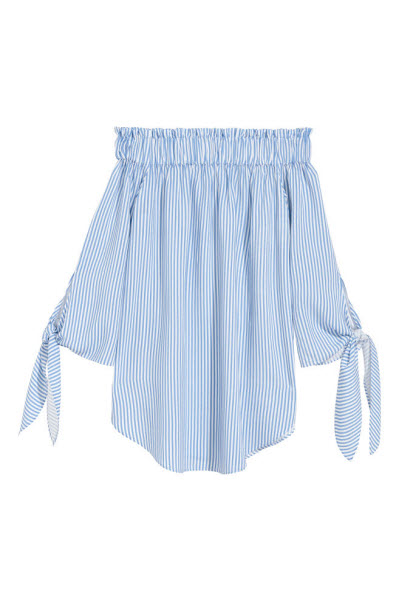 This Off-the-shoulder Top ($9.99, down from $24.99) was marked down an additional $6 for the sale, and we suspect that it won't stay in stock for very long.
You can also find tanks, tees, blouses and more at this price point. Stock up on tops for any and all occasions, from work to the weekend.
When Is It
The sale began on Thursday, June 13, 2019, and is available both online at their US website, and in H&M stores across the country. The benefit of shopping the sale online is that you can fill a cart and checkout the *second* the sale goes live in the morning. The perks of shopping in store is that they have been known to offer scratch-offs to the first 100 people in line, with a chance to win up to $300. Not too shabby.
What To Buy
In addition to the under $5 deals, this is what our editors are buying. Hurry–they won't stay in stock for long!
SheFinds receives commissions for purchases made through the links in this post.