Let's admit it, Kacey Musgraves is everyone's favorite country singer. Even if you're not all that into country music, you love Kacey. We get it– it's impossible to resist her country pop hit songs and cool girl personality. 
While Kacey has been "properly yeehawing since 1988" (funniest Instagram bio, ever), she recently took the country music world by storm in just these past few years. Let us break it down for you: Kacey won 4 Grammy Awards in 2019 alone– talk about an icon, right?! We predict she isn't about to leave the country music scene any time soon, she's here to stay and will continue to bring her high energy to her world tour, and her Instagram posts, of course. 
Kacey Musgraves Oh, What a World: Tour II
Have no fear– it's not too late to catch Kacey Musgraves on her legendy Oh, What a World: Tour II. The tour, wrapping up in early 2020, has fans flocking to get their hands on tickets. As if she wasn't busy enough, Kacey is also lined up to perform at music festivals for the remainder of the year. Hello, Austin City Limits Music Festival! This flawless country queen truly never stops and we don't blame her. We want to be just like her, and luckily we've found a way to make that a little more possible. It's time to travel down memory lane to remember some of Kacey's best looks in 2019 so we can get some Halloween inspo this year. 
Kacey Musgraves 2019 Fashion Style
Colorful, fun, and bold are three words that come to mind when thinking of Kacey's iconic style. When she's not serving #lewks on her Oh, What a World: Tour II stops, she's slaying the fashion game at music festivals and award shows. Some of our favorite Kacey Musgraves styles from 2019 are her looks at both Coachella and the Met Gala. Luckily for you, we've gathered plenty of Kacey fashion looks to inspire your Halloween costume this year. 
How to DIY Kacey Musgraves' looks
There's definitely plenty of style inspiration to get from Kacey's looks at everything from her tour stops to award show appearances. Remember her perfect suede look at Coachella? We've got you covered on that. Oh, and how could we forget her iconic Barbie style at the Met Gala?! Yeah, we've got the perfect DIY look in store for you. Want to know the best part about creating your own Kacey Musgraves inspired costume this year? You won't have to break the bank and all you'll need are just a few simple pieces to perfect your Halloween look.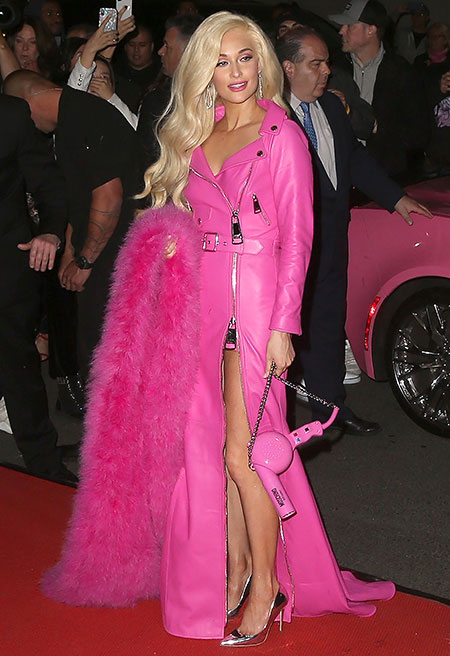 Splash News
1. Kacey Musgraves Met Gala 2019 Costume
Let's start with one of Kacey Musgraves' boldest looks from this year: her 2019 Met Gala outfit. This look will definitely make for one iconic Halloween DIY. It for sure puts the perfect twist on the traditional Barbie costume.
How To DIY It:
Hot pink and leather will be your best friend this Halloween. Turn to Amazon to grab the best pieces for this DIY costume. For starters, you will definitely need Barbie blonde hair. We recommend this MelodySusie Blonde Long Curly Wavy Wig for Women Girl ($16.88). Next, let's talk about your outfit. Pick this chouyatou Women's Stylish Oblique Zip Slim Faux Leather Biker Outerwear Jacket ($44.90) and pair it with these VIV Collection Womens Sexy Tight Fit Faux Leather High Waisted Leggings ($19.99) and this ROYAL WIND Men Women Winter Warm Faux Fox Raccoon Fur Collar Stole Long Scarf Shawl ($12.00).
Instagram.com/yasi
Kacey Musgraves 2019 Coachella Costume
Turquoise and suede? Sign us up! Kacey's look at 2019 Coachella was nothing short of perfection. Her boho vibes are everything and we bet you can't wait to recreate this look come Oct 31.
How To DIY It:
You can DIY Kacey's 2019 Coachella look for just under $70. The best part is you can even keep some of these pieces in your closet long after Halloween is over. This Romwe Women's Summer Halter Scallop Hollow Tank Camis Crop Top Vest ($17.99) is the perfect suede piece, especially when paired with this Floerns Women's Solid Bodycon Faux Suede Mini Skirt ($15.99). Lastly, add some accessories: Wonderent Turquoise Vintage Squash Blossom Metal Statement Necklace/w Earrings ($34.99).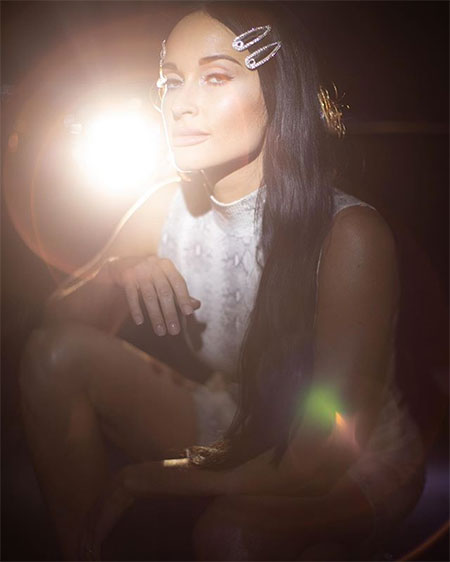 Instagram.com/spaceykacey -by @kellychristinephoto
Kacey Musgraves Oh, What a World: Tour II Costume
We all know animal print is having a moment in the fashion world and Kacey's style is no exception. One of our favorite Kacey tour looks is this fun snake print look.
How To DIY It:
This last-minute DIY costume is both comfortable and so easy. First you'll want to select your favorite snake print outfit. We suggest this Sweetbei J Womens Sleeveless Scoopneck Button up Casual Workout Crop Cami Top ($12.99) and these WDIRARA Women's Stretchy Elastic Waist Plaid Print Skinny Cycling Short Leggings ($12.99). Clip in these 6 Pieces Rhinestone Snap Hair Clips 4 Inch Hair Barrettes Hairpins Crystal Metal Hair Clips for Women Girls Wedding Hair Accessories (Silver) ($10.99) for some finishing touches to your costume.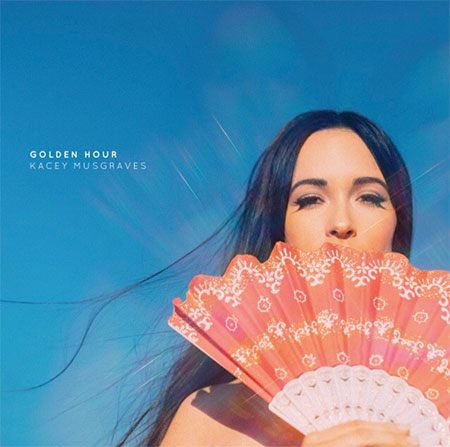 Instagram.com/spaceykacey -by @kellychristinephoto
Kacey Musgraves Golden Hour Album Costume
Golden Hour has quickly become one of our favorite albums. It's no secret that it's filled with slow bops. While you can't see much of Kacey in her album artwork, you can definitely use your imagination to create the perfect Halloween DIY costume.
How To DIY IT:
The main item for this DIY is Kacey's folding fan of course. This OMyTea "Sakura Wind Folding Hand Held Silk Fans ($9.99) has the same red boho vibe as Kacey's. Next, you can either simply straighten and part your hair down the middle or you can pick up this long wispy wig: Deifor 28 inches Long Straight Middle Parting Natural Heat Resistant Replacement Hair Synthetic Wigs ($18.99). It's best to keep your outfit simple. We suggest this VETIOR Women's Adjustable Spaghetti Straps Long Cami Slip Dress ($20.99) to complete your look.
SheFinds receives commissions for purchases made through the links in this post.