Season 17 of "Keeping Up With The Kardashians" is underway, and for those who like to style-stalk the show you might have noticed that on Episode 2, Kim Kardashian West is seen wearing an olive green string bikini that makes her curves look AMAZING!
The beauty mogul put her incredible figure on full display in this itty bitty number. And if you've been dying to know where the suit comes from, we have really good news. (No, Kourtney and Scott aren't getting back together.) The suit is from beachwear designer Monica Hansen, we can confirm!
The brand revealed to SheFinds that Kim is wearing the Start Me Up Underwire Demi Wire Bra and Start Me Up Twisted Side Bottom' both in the Olive hue on the show.
We love how this color is sort of citrus-y without being too neon. We're calling it now: this suit and that color are going to be huge for fall!
And not only is Kim a fan, but tons of influencers are rocking the suit as well!
Get it here: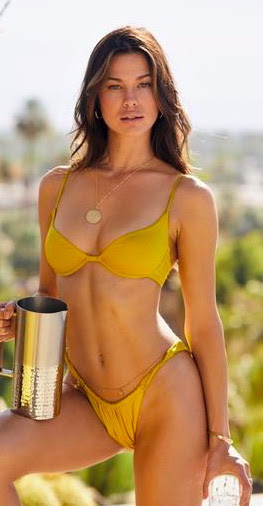 Shop now: Start Me Up Underwire Demi Bra ($123) and Start Me Up Twisted Side Bottom ($110) in Olive.
Mhb Start Me Up Underwire Demi Br ($123)