There are a lot of beauty products out there that do the same thing. They look the same, have the same ingredients, cause the same results. It's like Groundhog Day when shopping the drugstore or Sephora aisle. But then there are the hero products like M-61's PowerGlow Peel Pads that are so different than anything else you've seen on the market. The first time you try them, you're hooked. It's a very rare find in this world, but they do exist.
I tried the peel pads a few years ago after receiving a free sample and have never looked back. The glycolic and salicylic-based wipes visibly decrease the size of my pores and those pre-wrinkle lines on my forehead. And I guess that I am not alone, because the brand revealed that they sell one every 5 seconds. Wow! Here's what all the fuss is about:
What Are They
The M-61 PowerGlow Peel Pads ($30 for 10) are designed as an at home peel. The ingredients that do most of the heavy lifting are glycolic and salicylic acids. This combo reduces pore size and fine lines. They also contain Vitamin K to reduce the appearance of spider veins and dry, rosacea patches, and  bilberry extract to even skin tone, and chamomile and lavender to calming and soothe.
Pro tip: Use the peels a few times per week (working up to daily) to check for irritation (I did not experience any). Always remember to wear a daily sunscreen once you start using them.
Promising Reviews
Sold 1 in every 5 seconds, they bestselling Peel Pads have thousands of 5-star reviews and rave customer reviews online—even high-profile ones.
Actress Leslie Mann just revealed in an interview that she uses them daily—and her teenage daughter actor Maude Apatow steals them, too. (I hope my daughter never grows up to steal mine, because we're going to have real problems!)
"My mom loves to buy products, so I definitely use her stuff — because it's really good," she told Refinery29. "I actually just took some of those M-61 peel pads. I was hoping mom wouldn't notice."
And Leslie confirmed: "In my everyday routine, I'm pretty invested in my skin. I love the M-61 Peel Pads for exfoliating and brightening."
Customers agree: "PowerGlow Peel showed me results within 2 applications. It's incredible. Worth. Every. Penny." Blue Mercury user 'Christi' says.
And speaking from personal experience, they make my skin glow. I use them 3 times a week, and I'm not kidding when I say that I look forward to days I use them. They're my favorite anti-aging product (tied with C E Ferulic). Shop now: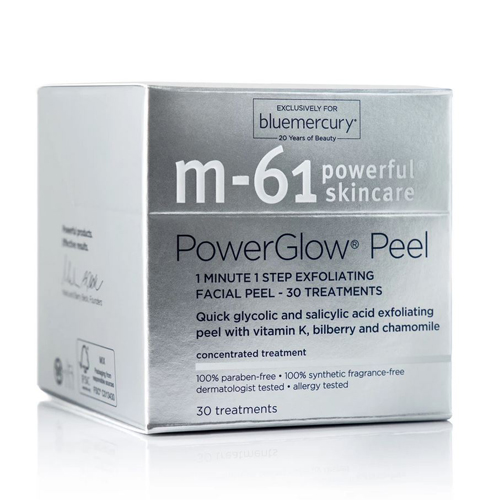 M-61 20th Anniversary Powerglow® Peel ($30)
SheFinds receives commissions for purchases made through the links in this post.