When it comes to taking daily vitamins and supplements, women are bombarded with an extremely long list of recommended doses, combinations, and staple must-haves. As we're running through each letter of the alphabet pill by pill, it can be daunting – not to mention hard on our wallets and throats. What vitamins should we be prioritizing? Additionally, which are the vitamins that aren't necessarily sustained from a healthy diet? If packing our dinner plates with nutrient-dense and rich foods (like fruits and vegetables), you may be getting your recommended daily dose of most necessary vitamins and minerals. However, there may be one standout vitamin supplement your body craves for a youthful glow (over others). This particular vitamin, is B complex vitamins.
Not only are B vitamins crucial to energy levels and brain function, they make us pretty! Scratch that, they make us beautiful, youthful, and add a touch of glow to our skin. To understand why B vitamins instantly take ten years off our complexion, you must understand the breakdown of different forms of B vitamins (eight  to be exact) . Read on as we break down each B vitamin and how it directly impacts our skin health and appearance.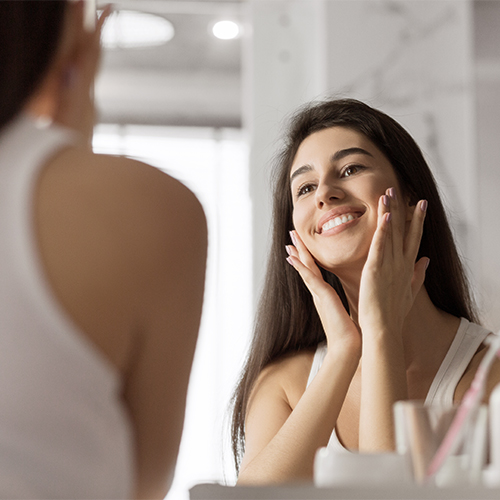 Shutterstock
Thiamine - AKA B1
It's purpose in the body is to help relieve or alleviate stress. When it comes to our appearance and skin health, Thiamine controls our sensitivity to products or external stressors. Low levels of B1 can lead to unnecessary redness, dry skin, cracked lips, or even acne.
Riboflavin - AKA B2
The holy grail vitamin for youthful skin, and where vitamin B gets it's stellar reputation for assisting with anti-aging. The large amount of antioxidant properties in B2 work to ward off free radicals in the body - the ones that lead to forming wrinkles and fine lines. By keeping your body and skin toxin-free from ingesting B2, you're increasing the body's blood circulation (which leads to glowing skin).
Niacin - AKA B3
We'll refer to vitamin B3 as the helper! As it's a great source of nourishment for the fatty acids that exist within our skin. It assists in protecting the skin's barrier to the outside elements. Niacin creates a smooth and soft surface on our skin by locking in extra moisture. Goodbye dry skin!
Pantothenic Acid - AKA B5
Speaking of saying goodbye dry skin, B5 is a great vitamin to kick patchy skin to the curb! A true pro-nutrient, Pantothenic Acis helps maintain water within the skin. Not only does this lock in moisture to guarantee a healthy and youthful glow, it aids in keeping the skin's surface firm and elastic.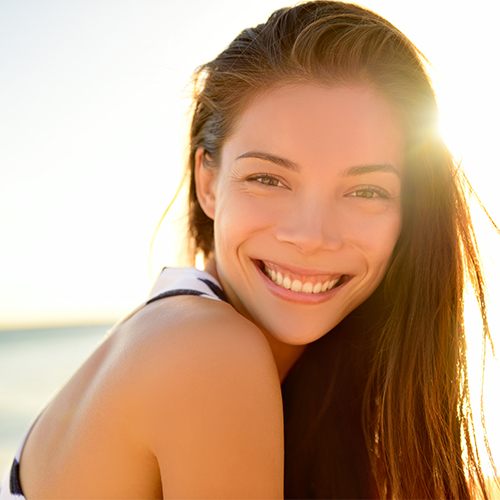 Shutterstock
Pyridoxine - AKA B6
We all know that hormones play a vital role in our skin health. Weather it's regulating oil production or transporting necessary nutirents to the skin, we can't have a young-looking complexion without a healthy endocrine system. Thankfully, having the necessary amount of vitamin B6 in our system can help maintain and regulate our bodies hormones properly.
Biotin - AKA B7
To keep a youthful looking complexion, it's necessary to pay attention (and rebuild or repair) the proteins in our skin - proteins like amino acids. B7 keeps our fatty and amino acids thriving and healthy to maintain beautiful skin.
Folic Acid - AKA B9
A great way to flush out skin cells, folic acid is a great vitamin for the face as it repairs and grows new cells. Our only call out! While over taking supplements can be innocently excreted through our urine, overtaking B9 can actually be bad for the skin - causing redness and blemishes.
Canalamin - AKA B12
The most commonly referenced B vitamin, B12 is known as the energy supplier. It earns the reputation by aiding in blood circulation throughout the body. When the blood is moving, the skin in thriving! Taking (or even injecting) B12 is a great way to even skin tone and maintain proper pigmentation (including the minimization of dark spots).
HUM Nutrition
Along with getting B vitamins from your diet (by eating a mixture of leafy greens and grass-fed red meat), additional supplements should be ingested to guarentee you're meeting proper levels across the B-Complex board. We recommend HUM Nutrition, as it's made with clean ingredients and formulated with the help of nutritionist. When picking out an oral vitamin supplement, it's important to know you're getting a quality and natural product. Try HUM's Uber Energy with B5 & B6, or B12 Turbo formula.
Learn more about beauty SheFinds.com, to discover more tips on how to pick the perfect products for your body.